ՊԱՐՍԵԼՈՆԱ.- Ընկերվար Միջազգայնականի (Socialist International) խորհուրդի ժողովը տեղի ունեցաւ 24էն 25 Նոյեմբեր 2017ին, Սպանիոյ Պարսելոնա քաղաքին մէջ, հիւրընկալութեամբ Սպանիոյ Ընկերվար կուսակցութեան:
Ժողովին ներկայ էին Ընկերվար Միջազգայնականի անդամ կուսակցութիւններու պատուիրակութիւններ եւ հրաւիրեալներ, որոնք կը ներկայացնէին աշխարհի զանազան ցամաքամասեր:
Ժողովականները քննարկեցին երեք գլխաւոր թեմաներ՝ ձախի հետ կերտել ապագան՝ ժողովրդավարութիւն, հաւասարութիւն եւ համերաշխութիւն, բազմաթիւ հակամարտութիւններով աշխարհի մը մէջ աշխատանք՝ կայունութեան եւ խաղաղութեան համար, մարդասիրական տագնապներուն՝ մարդկային վերաբերմունքի ջատագով:
Ժողովին մասնակցեցաւ նաեւ ՀՅԴ պատուիրակութիւնը՝ գլխաւորութեամբ Ընկերվար Միջազգայնականի մօտ ՀՅԴի ներկայացուցիչ Մարիօ Նալպանտեանի: Պատուիրակութեան մաս կը կազմէին ԸՄ Կանանց կազմակերպութեան մօտ ՀՅԴ ներկայացուցիչ Վերա Եագուպեան, ինչպէս նաեւ Նուպար Վարդանեան (Հոլանտայէն) եւ Տաթեւ Սուլեան (Պարսելոնայէն):
Ժողովի բացումին խօսք առին Ընկերվար Միազգայնականի ընդհանուր քարտուղար Լուիս Այալա, Քաթալոնիոյ Ընկերվար կուսակցութեան ղեկավար Միկել Իսեթա եւ ԸՄ նախագահ ՃորՃ Փափանտրէօ:
Խորհուրդի նիստին նախորդող օրերուն տեղի ունեցած էր ԸՄ նախագահութեան նիստը, որուն մասնակցած էր Մ. Նալպանտեան՝ որպէս կազմակերպութեան փոխնախագահներէն մէկը:
Մ. Նալպանտեան ժողովին, ընթացքին խօսք առնելով՝ անդրադարձաւ Հայաստան-Եւրոպական Միութիւն գործընկերութեան համաձայնագիրին մասին, զայն որակելով պատմական քայլ։ Ան նաեւ վերահաստատեց Արցախեան հիմնահարցին արդարացիութիւնը եւ Արցախի ժողովուրդի ինքնորոշման իրաւունքին ամրապնդումը:
ԸՄ խորհուրդը որդեգրեց շարք մը բանաձեւեր, որոնց շարքին՝ քիւրտ ժողովուրդին վերաբերող բանաձեւ մը, որուն մէջ անդրադարձ կը կատարուի Իրանի, Իրաքի եւ Սուրիոյ մէջ քիւրտերու հարցերուն եւ կոչ կը կատարուի Թուրքիոյ իշխանութիւններուն՝ վերականգնելու քիւրտ ներկայացուցիչներու հետ երկխօսութիւնը՝ քրտական հարցին խաղաղ կարգաւորում գտնելու համար: Թուրքիոյ կոչ կը կատարուի նաեւ ազատ արձակելու քաղաքական բանտարկեալներն ու ձերբակալուած լրագրողները: Բանաձեւը նաեւ կը վերականգնէ կազմակերպութեան աշխատանքային խումբը քրտական հարցին մասին:
Իսկ 21էն 22 Նոյեմբեր 2017ին, Վերա Եագուպեան մասնակցեցաւ Կանանց Ընկերվար միջազգայնականի խորհուրդի ժողովին, որուն ընթացքին քննարկուեցաւ Ժողովրդավարութիւնը տագնապի մէջ՝ փոփիւլիզմի (ժաղովրդականութեան) աճ՝ կանանց իրաւունքները ո՞ւր կը տեղաւորուին:
Վ. Եագուպեան ժողովին ներկայացուց Հայաստանի Ազգային ժողովին մէջ ընտանեկան բռնութեան կանխարգիլման մասին օրէնքի նախագիծին հիմնաւորումները եւ քննարկումները: «Նման նախագիծի մը ընդունումը հնարաւորութիւններ պիտի ստեղծէ պաշտպանելու կանանց իրաւունքները եւ կանխարգիլելու բռնութիւնը կնոջ եւ երեխային նկատմամբ: Հայ կանայք ունին կարողականութիւնը երկրի ընկերային, տնտեսական եւ քաղաքական կեանքին մէջ իրենց ներդրումը բերելու, սակայն անոնց կը պակսին առիթները: Կանանց իրաւոնքներու յարգումը ընկերութեան մը մէջ հիմը կը հանդիսանայ ժողովրդավարական սկզբունքներու հաստատման», յայտնեց Վ. Եագուպեան:
Ժողովներուն ընթացքին, ՀՅԴ պատուիրակութիւնը հանդիպումներ ունեցաւ մեծ թիւով այլ պատուիրակութիւններու հետ:
Ընկերվար Միջազգայնականը ընկերվար-ժողովրդավարական, ընկերվարական եւ աշխատաւորական կուսակցութիւններ համախմբող համաշխարհային կառոյց է, որ կը համախմբէ բոլոր երկրամասերէն աւելի քան 130 երկիրներու շուրջ 150 քաղաքական կուսակցութիւններ եւ կազմակերպութիւններ:
Կազմակերպութեան մօտ ՀՅԴ ներկայացուցիչ Մարիօ Նալպանտեան կազմակերպութեան փոխնախագահ է: ՀՅԴ համապատասխան կառոյցները լիիրաւ անդամ են Կանանց Ընկերվար Միջազգայնականին (SIW) եւ Ընկերվար Երիտասարդներու Միջազգային Միութեան (IUSY): ՀՅԴ Երիտասարդականին կողմէ Կարօ Շատոյեան (Աւստրիա) IUSY-ի փոխնախագահ է: Ընկերվար Միջազգայնականի ԱՊՀ, Կովկասի եւ Սեւծովեան յանձնախումբի համանախագահ է ՀՅԴ Բիւրոյի քաղաքական ներկայացուցիչ եւ Հայաստանի Ազգային ժողովի ՀՅԴ խմբակցութեան ղեկավար Արմէն Ռուստամեան:
Ըստ թրքական «Տեմոքրաթհապեր» լրատուական կայքին՝ Նոյեմբեր 15ին եւ 16ին ներկայացուած այս պահանջագիրներուն թիրախ դարձած կարգ մը պատգամաւորներու վերաբերեալ քանի մը պահանջագիրներ ներկայացուած են միաժամանակ:
Ներկայացուած պահանջագիրներէն 46ը կը վերաբերի գլխաւոր ընդդիմադիր՝ Հանրապետական ժողովրդային կուսակցութեան, իսկ մնացեալ 75ը՝ քրտամէտ Ժողովուրդներու ժողովրդավարական կուսակցութեան պատգամաւորներուն: 2 պահանջագիր ուղարկուած է հանրապետականներու առաջնորդ Քեմալ Քըլըճտարօղլուի, իսկ 3 հատ՝ քրտամէտ կուսակցութեան համանախագահ Սալահետտին Տեմիրթաշի վերաբերեալ, հակառակ անոր որ վերջինս արդէն իսկ բանտարկուած է:
Պահանջագիր կայ նաեւ քրտամէտ կուսակցութեան հայ պատգամաւոր Կարօ Փայլանի վերաբերեալ:
Չորեքշաբթի, 29 Նոյեմբերին, Դամասկոսի մէջ, Սուրիոյ Խորհրդարանի նախագահ Համուտա Սապպաղ հանդիպեցաւ Բրիտանիոյ լորտերու եւ Անկլիքան եկեղեցւոյ պատուիրակութեան հետ, որուն կը նախագահէր պարոնուհի Գարոլայն Գոքս եւ որուն ընթացքին անդրադարձան Սուրիոյ վերականգնման շրջանին: Համուտա Սապպաղ յայտնեց, թէ Սուրիա թեւակոխած է արդէն վերականգնման փուլ, եւ կոչ ուղղեց, որ Բրիտանական պատուիրակութիւնը ճշգրիտ պատկերը փոխանցէ Սուրիոյ մէջ իրենց ականատես եղած իրականութիւններուն՝ ամենայն չէզոքութեամբ, նկատի առած որ այդ մէկը պիտի նպաստէ Սուրիոյ վերականգնման, խաղաղութեան եւ կայունութեան:
Պատուիրակութեան նախագահ Գարոլայն Գոքս յայտնեց իր ուրախութիւնը՝ անգամ մը եւս Սուրիա այցելութեանը համար, ցաւ յայտնեց ականատես ըլլալով ահաւոր տառապանքին եւ քանդումին ապա գնահատեց Սուրիոյ ժողովուրդին եւ բանակին տոկալն ու դիմադրելը ընդդէմ ահաբեկչութեան: Ան ըսաւ. «Դուք առաջնագիծի վրայ էիք պաշտպանելու համար հանրային եւ հաւատքի ազատութիւնները՝ տարածաշրջանին մէջ եւ ամբողջ աշխարհի տարածքին, շատ սուղ վճարելով՝ ձեր արեամբ եւ կազմակերպութիւններով»: Ան անդրադարձաւ նաեւ Սուրիոյ հարուստ մշակոյթին եւ անոր ազդեցութեան՝ աշխարհի այլ երկիրներու մշակոյթներուն վրայ:
Խորհրդարանի անդամներ իրենց նամակները յղեցին պարոնուհի Գոքսին, որպէսզի իր կարգին ան փոխանցէ Բրիտանիոյ Լորտերու ժողովին: Դոկտ. Նորա Արիսեան եւս ողջունեց պարոնուհին եւ շնորհակալութիւն յայտնեց Հայ Դատին հանդէպ անոր ունեցած դրական կեցուածքներուն համար եւ զայն համարեց Հայ դատի բուռն պաշտպաններէն մին: Ան հրաւիրեց զինք Սուրիան եւս պաշտպանելու նոյն ձեւով: Արիսեան յայտնեց, թէ ինք առաջին հայ պատգամաւորուհին է Արաբական Աշխարհի խորհրդարաններուն մէջ, ինչ որ մեծագոյն փաստն է Սուրիոյ բազմամշակութային կեանքին, որ կը դրսեւորուի Սուրիոյ սահմանադրութեամբ:
Դոկտ. Արիսեան պարոնուհի Գոքսին միջոցաւ նամակ յղեց Բրիտանիոյ Լորտերու ժողովին, յայտնելով թէ Սուրիոյ ընկերային շրջանակը համերաշխ է, կենակից է եւ կը հաւատայ բազմամշակութայնութեան: Ան նշեց, թէ պատերազմին ընթացքին շատ մը եկեղեցիներ եւ դպրոցներ քանդուեցան, որոնց վերականգնման աշխատանքները պիտի սկսին շուտով:
Levon Aronian of Armenia retained his standing on FIDE's chess rating, having climbed to the second spot two months ago.
FIDE unveiled the new ratings on Thursday, November 30, with Magnus Carlsen of Norway still leading the list of strongest chess players of the world.
Among the top 100 are also included two more Armenians – Vladimir Akopian on the 78th, as well as Gabriel Sargissian in the 72nd positions.
Aronian won the Stavanger-hosted Norway Chess tournament in June 2017, the Saint Louis Rapid and Blitz tournament two months later, and snatched the World Chess Cup victory in Georgia in late September. Also, the Armenian grandmaster won the fourth leg of the FIDE World Cup in Palma de Mallorca, Spain.
Չորեքշաբթի, 29 Նոյեմբեր 2017-ին, Ազգ. Քարէն Եփփէ Ճեմարանի Շրջանաւարտից Միութեան նախաձեռնութեամբ եւ Բերիոյ Հայոց Թեմի Առաջնորդ Գերշ. Տ. Շահան Սրբ. Արք. Սարգիսեանի անմիջական աջակցութեամբ տեղի ունեցաւ Ազգ. Քարէն Եփփէ Ճեմարանի աշակերտութեան վերարկուներու բաշխումը, մարդակերտումի այս դարբնոցին հիմնադրութեան 70-ամեակի առիթով: Այս մասին կը հաղորդէ «Գանձասար»։
Սրբազան հայրը բարձրօրէն գնահատեց այս նախաձեռնութիւնը, մաղթելով որ ան վարակիչ դառնայ: Ապա ան յաջողութիւն մաղթեց Ճեմարանին եւ Շրջանաւարտից Միութեան յառաջիկայ աշխատանքներուն:
Ճեմարանի գործադիր տնօրէն՝ պրն.Վահէ Ղազարեան տնօրէնութեան խնամակալութեան եւ շրջանաւարտից միութեան անունով շնորհակալութիւն յայտնեց սրբազան հօր իր այս ներդրումին եւ ցուցաբերած հայրական հոգատարութեան համար: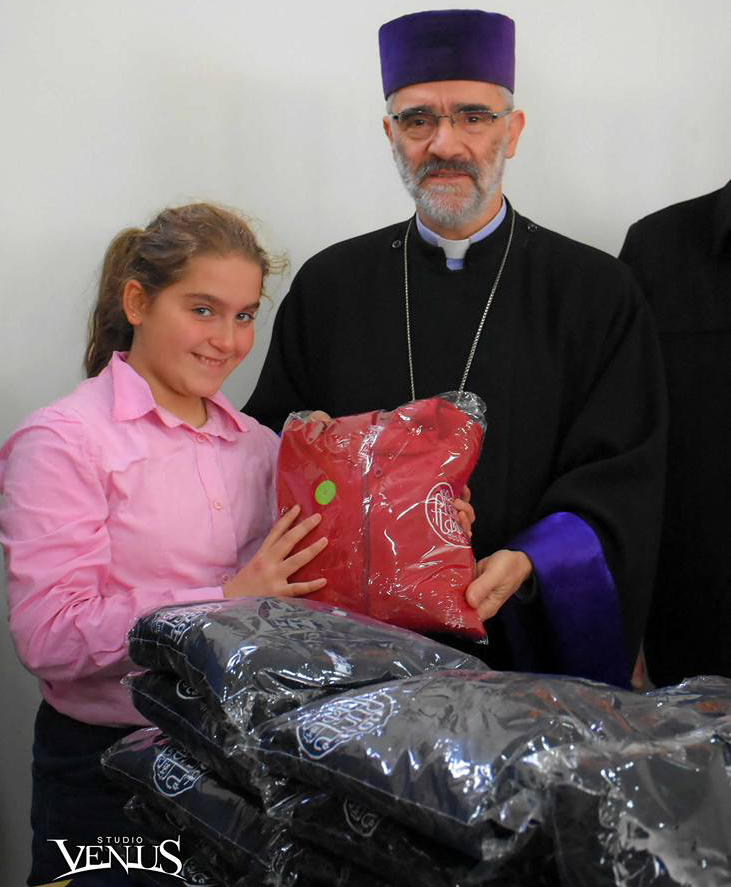 Montreal Gazette- The six students sit in a row, nervously awaiting their turns. Some hold hands, while others fidget in their chairs. Mgrdich Derderian passes his hand through his long, dark locks, one last time.
Then one by one they take centre stage in the Armenian Sourp Hagop school auditorium, and the entire student body watches and whoops as their heads are sheared to a soundtrack of Armenian pop.
All six kids — Patil, Sylvie, Alik, Taline, Arthur and Mgrdich — are cutting their hair to raise funds for the Cedars Cancer Foundation and to help make wigs for patients who lose their own hair.
The cheers are a sign of support for the sacrifice they are making, in this age of flowing hair and selfies.
But the cheering grows loudest for Mgrdich and Arthur. Maybe it's because they are boys, but more likely it's because of how far they have come themselves, from victims in war-torn Syria to volunteers today.
"Five years later, I'm here," Arthur says. "There's no culture shock — I've changed countries so many times now."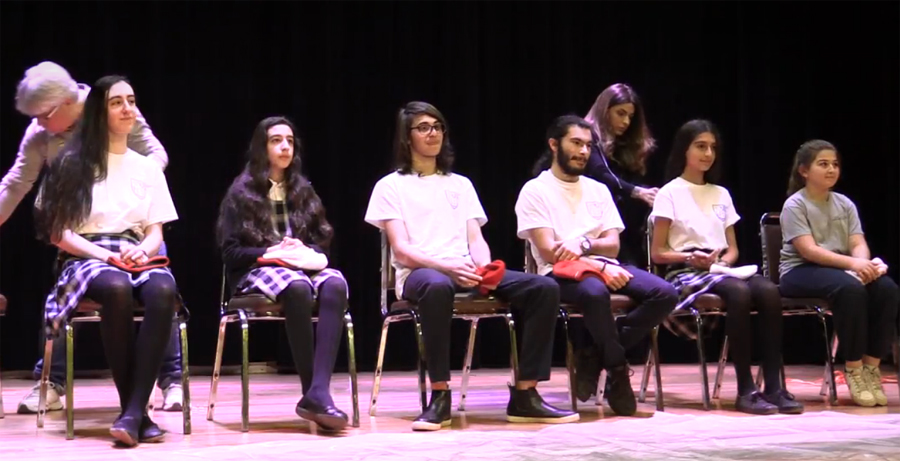 As of Sept. 30, almost 11,000 Syrian refugees with similar stories had arrived in Quebec since 2015, out of 49,000 in Canada.
In the spring, the federal auditor general issued a report on resettlement services for Syrians. On the one hand, they were able to access services sooner than other refugees.
But the auditor said the government needed to do a better job assessing access to health services, language classes and school attendance.
Both boys, who lived five minutes away from each other in Aleppo but never crossed paths until they arrived in Montreal, admit they are the lucky ones.
Others with fewer means left Syria for Turkey, then tried to get to Europe by boat. Many didn't make it. Other Syrians ended up in refugee camps in Lebanon or Jordan.
Mgrdich and Arthur were not refugees but immigrants to Lebanon, then they came to Montreal, into loving hands.
At the Sourp Hagop Armenian school, both are now out of welcome classes and blending in with the rest of the students. About 100 out of 800 students here were born in Syria. They include Sylvia, now 11, who cut her braids to make wigs, too.
They are now quadri-lingual — speaking Armenian, Arabic, English and French — although asked about his French writing, Arthur said, "Oh, boy."
But it hasn't been as easy for most Syrian kids at public French schools, where the other kids don't speak their language or share their culture.
It also hasn't been easy for their parents, either, professionals in their own land, unemployed here.
For Mgrdich and Arthur, shaving their heads may be the most obvious sign of their successful integration into their new country. They want to give back for the welcome they received and pay if forward to others, now in need.
"In Syria I couldn't help, I wasn't mature enough," said Mgrdich, adding people gave blood to help those injured in the war. "Now I have the opportunity. It's such a big thing for me."
He's also inspired by family members battling cancer, and by a particular YouTuber from Toronto, Furious Pete, who has documented his fight with testicular cancer.
Arthur, now bald but with a thick beard, his braids on his lap, says he doesn't really care where his hair goes. But he wants to use his 15 minutes of fame to warn people.
"Instead of investing money in war, invest in education and health, so all the children can go to school," he says. "Make the world a better place."
With the four girls and other student leaders, Mgrdich and Arthur have sold more than 200 T-shirts for the cause raising more than $2,000. Sourp Hagop students also provided hundreds of "get better" cards to go into the Cedars' Bell Fund comfort kits, for cancer patients undergoing chemotherapy or radiation therapy, or now in palliative care.
In return, the CCF gave them each a tuque that says "S— happens" — a bit of levity, and a middle finger to cancer. But the boys didn't want to cover their new, sleek heads.
"I feel good. I feel proud," said Mgrdich, vowing to grow it all back and cut if off again next year.
By Catherine Solyom
ARMENPRESS/ARTSAKHPRESS. Turkey's foreign minister Mevlut Cavusoglu on November 29 announced that he met with the members of the OSCE Minsk Group and Personal Representative of the OSCE Chairperson-in-Office Andrzej Kasprzyk in Ankara, reports Armenpress.
Commenting on this meeting, Davit Babayan – spokesman of the President of Artsakh, said, in general, one thing should be admitted: Turkey is always engaged in the process of the Azerbaijani-Karabakh conflict. "This involvement is negative, and this is clear to everyone. Turkey's policy is openly directed against the Armenian statehood which is manifested by not only supporting Azerbaijan, provoking it to aggression and sponsoring it, but also by the denial of the Armenian Genocide, carrying out different anti-Armenian projects against the demand of its recognition", Davit Babayan said, adding that such meetings, of course, doesn't mean that Turkey must officially become one of the mediators of the conflict settlement, this is impossible and simply impermissible.
Davit Babayan stated that recently the activeness of the Turkish side in the Karabakh conflict is obvious, and during such meetings the OSCE Minsk Group Co-Chairs probably make it clear to Turkey not to cross "the red line".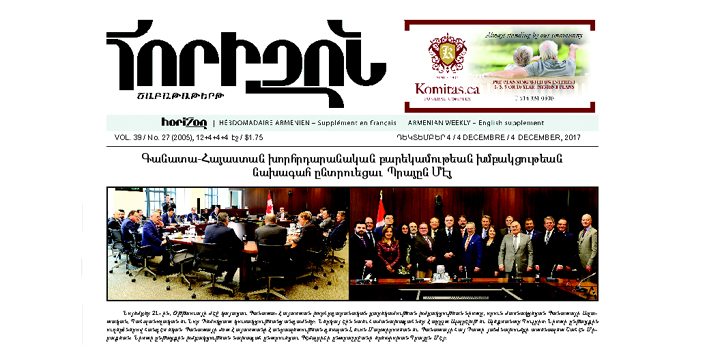 Գերմանիոյ Քէօլն քաղաքին մէջ, Նոյեմբեր 18-ին, տեղւոյն հայ համայնքին նախաձեռնութեամբ, զետեղուած է խաչքար մը` ի յիշատակ Հայոց Ցեղասպանութեան զոհերուն: Խաչքարը օծուած է ձեռամբ Գերմանիոյ Հայ առաքելական եկե- ղեցւոյ առաջնորդական փոխանորդ Սերովբէ վրդ. Իսախանեանի: Խաչքարը բարձրացուած է Ս. Փեթերզպուրկէն հայ բարերար Հրաչեայ Պօղոսեանի միջոցներով: Այս մասին կը հաղորդէ Ֆրանսայի «Նոր Յառաջ»-ը։
Խաչքարի զետեղումը մեծ զայրոյթ պատճառած է քաղաքի թուրք համայնքին, որուն ներկայացուցիչը՝ Լեւենթ Թաշքըրան, թուրք մամուլին յայտնած է, որ տեղւոյն 32 թրքական միութիւններէն բաղկացած յատուկ նախաձեռնութիւնը՝ օրին այս նիւթով հանդիպումներ ունեցած է Քէօլնի քաղաքապետարանին հետ եւ հետեւած իրադարձութիւններու զարգացման: Բայց եւ այնպէս, հակառակ թրքական համայնքին ջանքերուն` յուշարձանը բարձրացուած է:
«Քէօլնի մէջ, ուր 100 հազարէ աւելի Թուրք կ՚ապրի, այդպիսի յուշարձանի բարձրացումը ներքին խաղաղութիւնը խաթարող քայլ կ՚որակենք։ Մենք քաղաքապետարանին այս որոշումը չենք ընդունիր եւ զայն կը համարենք հակաժո- ղովրդական»,- ըսած է ան:
Հայաստանի Հանրապետութեան քաղաքացիութիւն ստանալու համար՝ 2017-ի առաջին ինն ամիսներուն ընթացքին՝ դիմած է 6866 անձ: 2016-ի ողջ տարուան ընթացքին ` 7229 անձ: Ըստ Armenpress.am-ի՝ ՀՀ ոստիկանութեան անձնագրային եւ վիզաներու վարչութեան պետ, ոստիկանութեան գնդապետ Մնացական Բիչախչեան ըսած է, որ 2017 Յունուար-Սեպտեմբերին մերժուած է 356 անձի դիմում, 2016-ին` 840 դիմում: «Երկիրներու եւ ազգութիւններու մասով առանձին վիճակագրութիւն չի վարուիր»,- ըսած է ան:
Հակառակ անոր, որ պաշտօնական վիճակագրութիւն չի վարուիր, սակայն «Վերադարձ Հայաստան» հիմնադրամի տնօրէն Վարդան Մարաշլեան տեղեկացուցած է, որ երկքաղաքացիութիւն ստանալու համար աւելի յաճախ կը դիմեն Սուրիոյ, Լիբանանի, Վրաստանի հայերը: «Երկքաղաքացիութեան հիմնարկը ժամանակին ստեղծուած է անոր համար, որ կապեն Սփիւռքը Հայաստանի հետ: Ո՛չ ուղղակի ձեւով՝ ատիկա նաեւ կը վերաբերի հայրենադարձութեան զարգացման, որովհետեւ մարդիկ, եթէ ձեռք կը բերեն երկքաղաքացիութիւն, իրենք կը սկսին երթալ-գալ Հայաստան եւ երթալ-գալով Հայաստան կապուածութեան աստիճանը շատ լուրջ կ՝ըլլայ եւ մարդիկ կը սկսին մտածել տեղափոխուելու մասին»,- ըսած է ան:
The 7th meeting of the UNESCO Parties to the 1999 Second Protocol to the 1954 Hague Convention for the Protection of Cultural Property in the Event of Armed Conflict kicked off in the organization's headquarters in Paris, France on Monday.
One of the key purposes of the meeting was to elect six members of the Committee for the Protection of Cultural Property in the Event of Armed Conflict, the Armenian Foreign Ministry reported.
Ten countries had nominated their candidacies for the six vacant positions, with the following states elected as the UNESCO committee members – Italy (48 votes), Armenia (44 votes), Cambodia (43 votes), Japan (42 votes), El Salvador (39) and Egypt (32 votes). Thus, Armenia was re-elected for 2017-2021.
Armenian was first elected as the committee member in 2013.
ՀՀ սփիւռքի նախարար Հրանոյշ Յակոբեան Ֆրանսայի Հանրապետութիւն կատարած այցի ծիրէն ներս նոյեմբեր 28-ին հանդիպած է Լիոնի հայազգի քաղաքապետ Գէորգ (Ժորժ) Կեպենէկեանին:
Հանդիպման ընթացքին զրուցակիցները կարեւոր համարած են հայ-ֆրանսական յարաբերութիւնները, քննարկած  յատկապէս 2018թ. հոկտեմբերին տեղի ունենալիք Ֆրանքոֆոնիայի գագաթնաժողովի իրականացման հետ կապուած հարցեր, որուն կը նախատեսուի Ֆրանսայի նախագահ Էմանուէլ Մաքրոնի մասնակցութիւնը:
Լիոնի քաղաքապետը եւ Սփիւռքի նախարարը քննարկած են մարտ ամսուն Գէորգ Կեպենէկեանի Հայաստան կատարելիք հնարաւոր այցի մանրամասները: Հրանոյշ Յակոբեան եւ Լիոնի քաղաքապետը արծարծած են կրթութեան, ճարտարապետութեան, բժշկութեան ոլորտներուն առնչուող հարցեր: Կարեւոր համարուած է բարձր արհեստագիտութիւններու  շուրջ համագործակցութիւնը` մատնանշելով Երեւանի մէջ գործող Թումօ ստեղծարար արհեստագիտութիւններու կեդրոնի առկայութիւնը:
Կողմերը անդրադարձած են նաեւ Հայաստան-Սփիւռք գործակցութեան զարգացման հեռանկարներուն, համայնքի աշխուժութեան, հայկական դպրոցներուն մէջ հայոց լեզուի ժամաքանակի աւելացման խնդիրներուն, հայկական մշակոյթի կեդրոններու եւ Հայ Առաքելական եկեղեցւոյ գործունէութեան վերաբերող հարցերուն: Կարեւոր համարուած են ճատրակի մասնագէտներու գործուղումը Լիոն, ինչպէս նաեւ Ֆրանսայի մէջ ճատրակի տարածման խնդիրները:
Հանդիպման աւարտին Սփիւռքի նախարար Հրանոյշ Յակոբեան նախարարութեան Ոսկէ յուշամետալով  պարգեւատրած է Գէորգ (ժորժ) Կեպենէկեանը:
Հանդիպումէն ետք  նախարարը եւ քաղաքապետը այցելած են Լիոնի Հայոց ցեղասպանութեան սրբադասուած նահատակներու յիշատակը յաւերժացնող յուշահամալիր եւ ծաղիկներ խոնարհած:
Նոյն օրը Հրանոյշ Յակոբեան հանդիպած է ֆրանսահայ գործարարներու հետ եւ քննարկած ոչ միայն հայ, այլ նաեւ ֆրանսացի գործարարներու` Հայաստանի մէջ ներդրումներ կատարելու հնարաւորութիւնները:
Հանդիպման ներկայ  գտնուած են Լիոնի մէջ ՀՀ փոխհիւպատոս Գայեանէ Մանուկեան, Կեդրոնական Ֆրանսայի հայկական կազմակերպութիւններու համակարգող խորհուրդի (CCAF)  նախագահ Րաֆֆի Գրիգորեան, Լիոնի քաղաքապետարանի Հայաստանի ծրագիրներու ղեկավար Իզապէլ Լակեան եւ պաշտօնատար այլ անձիք:
Minorities in Turkey worry that they could again be pawns of shadowy forces that seek to exploit the country's current discontents, Garo Paylan, an HDP lawmaker and an ethnic Armenian, told Al-Monitor.
The comments come after vandals targeted several Alevi homes in eastern Turkey. Late last week, assailants painted an ominous red "X" on 13 homes in the predominantly Alevi district of Cemal Gursel in Malatya, a conservative city of nearly 800,000 people, said the head of a local Alevi group, adding police had yet to make any arrests.
Two days after the Alevi homes were vandalized, an Armenian church association was pelted with stones when the office was empty.
Only a few dozen Armenians still live in Malatya; they made up a third of its inhabitants before genocide during World War I annihilated the country's Armenian population. Garo Paylan's family is originally from Malatya.
Minorities worry that they could again be pawns of shadowy forces that seek to exploit the country's current discontents, said Garo Paylan, an HDP lawmaker and an ethnic Armenian. His family is originally from Malatya.
"They [minorities] remember what happened to their grandparents, or even their mothers and fathers, and they know that it is in the current kind of environment that crimes can occur," he told Al-Monitor.
"I'm not saying that the AKP [ruling Justice and Development Party] wants that to happen. Some powers use minorities as a form of manipulation against each other [knowing] people are biased against these identities," he said.
By Raffi Ardhaldjian
The Armenian Weekly
Mother Armenia is arguably the biggest statue in Yerevan and stands watchfully over the Turkish border. This nationalist symbol replaced the statue of the brutal dictator Joseph Stalin on the same basalt pedestal after his death. The statue seems the female personification of Armenia, portraying peace through strength. It might also remind viewers of the role of women in the long and bloody Armenian liberation movement more than a century ago that eventually led to the creation of the first Armenian Republic on May 28, 1918, after the centuries of statelessness since 1375.
The short-lived first Armenian Republic, which lasted just two years, was one of the first states to give women the right to vote—to elect and to be elected—even before women in the USA, who had to wait until 1920, when the Nineteenth Amendment was adopted.
Armenia today has 19 women in its National Assembly (Azgayin Zhoghov) consisting of 105 members. Several women served in the 80-person parliament of the first Republic, including three female members in 1919: Berjouhi Parseghian, Katarine Zalian-Manoukian, and Varvara Sahakian. The first Republic also boasted the first female consul (diplomat) in the modern world, Dr. Diana Apcar, who represented Armenia in Japan.
This article aims to highlight the importance of a pending bill, the Law on Preventing Domestic Violence in Armenia, as one of the first steps toward women's empowerment, a theme central to Armenia's development in the 21st century. The proposed law was drafted by Armenia's Justice Ministry last year and recently submitted to parliament. It is expected to be voted on before the end of 2017.
The Armenian Revolutionary Federation (ARF) parliamentary bloc in Armenia, which consists of seven members of parliament (MPs), voiced support for the adoption of the bill, pending minor amendments. The ARF views the proposed bill as an essential part of a societal value system and necessary for a healthier society. Most recently, the ARF's representative at the Socialist International Women (the international organization of the women's organizations of the socialist, social democratic and labor parties affiliated to the Socialist International) affirmed its support for the elimination of violence against women everywhere, during its last council meeting in Barcelona.
The advocacy in this article is not an attempt at setting out either a modern Armenian feminist manifesto or engaging in "identity politics" in Armenian life. If Armenians are hoping to establish a fair society, then they need to be antipathetic toward injustice and sympathetic to mutual respect. Although the women's agenda in Armenian political life in general remains rather undefined, fragmented, and sometimes ignored, the journey of Armenian female empowerment is an integral part of the Armenian political agenda. In this context, modern Armenian political thought needs to see gender inequality as a direct result of unequal power distribution. It also needs to engage by first focusing on ending violence against women and girls.
Three Considerations
First, and obviously, there is a problem in society and the existing regulatory framework in Armenia is insufficient to address it adequately. A specific law against domestic violence is necessary to complement existing provisions in the Family Code and Criminal Code of Armenia. Protecting human rights in this context is important not just when it is popular to do so but also, and even more importantly, when it might be unpopular.
Second, women's rights should not be viewed from the lens of geopolitics (i.e., regional powers and the West) that sometimes wrongfully color these issues. Many in Armenia's post-Soviet society still view attempts by women NGOs as agendas being funded by foreign powers from abroad.
Although considerable resource support from Western governments and nongovernmental donors has been channeled to NGOs helping at-risk women in Armenia, that does not constitute the entirety of the picture. An important consideration here is the European Neighborhood Policy and Enlargement Negotiations with Armenia. Commissioner for Enlargement and European Neighborhood Policy Johannes Hahn recently stated that the Armenia-EU agreement will be signed at an upcoming in Brussels in November (The signing occurred this past week. -Editor). The commissioner stressed that for the first time a country that is a member of the Eurasian Union will sign a far-reaching agreement with the European Union. He added that "it shows exactly that coexistence is possible and could serve as a blueprint for others."
Although Armenia's inclusive foreign policy is to be applauded, Armenian political thought needs to separate gender politics from geopolitics.
Over the last 10 years, there has been small but positive organic growth of the women's movement in Armenia. However, as Armenia continues to struggle with its economic transition, few citizens have been able to channel funds to support NGOs that exist to empower women and help build institutions such as shelters for victims of domestic violence; only a handful of such shelters exist today.
Here, there is a role for the Armenian Diaspora as well. Organizations such as the Armenian Relief Society (ARS), which has issued a statement fully supporting the domestic violence bill, can do even more. It might, for example, re-examine its programs in Armenia and, in addition to its traditional kindergarten and orphanage projects, allocate funds to projects such as regional shelters necessary to support the new bill.
Armenian society cannot be transformed unless the place of women in it is transformed.
Third, according to the values expressed in the Constitution of the Republic of Armenia, and as set out in international treaties voluntarily signed by Armenia, a bill such as this one is entirely lawful.
Armenia is a signatory to the Convention on the Elimination of All Forms of Discrimination against women (CEDAW), an international treaty adopted by the UN General Assembly that acts as the "international bill of rights for women." As part of the fifth and sixth periodic reports by UN committees on Armenia, suggestions were made to expedite the "adoption of a comprehensive law specifically criminalizing gender-based violence against women."
Such a law is also coherent with the ARF's views and longstanding values. As early 1909, and then during the First Republic, the ARF has officially promoted the equality of women and men, the right of women to vote and to be elected, and other rights related to women and children in the workplace.
Despite being in a coalition agreement with the ruling Republican Party of Armenia (RPA) at the moment, the ARF has differentiated itself many times in its history through its advocacy for progressive values. It seems to value Armenia's commitments to the international community, as it has realized that most civilized societies have adopted mechanisms to address domestic violence (see the statement by the representative of the ARF Parliamentary bloc: "Our bloc will support the passage of this law, because we are a part of the world.").
In Armenia, domestic violence is a problem that remains on the margins of national discourse. A 2014 article in the Armenian Weekly discussed the seriousness of the problem, concluding, "The dedicated women and men confronting this horrible crime need help." The introduction of the Law on Preventing Domestic Violence in Armenia is an opportunity for various constituents of Armenian society to participate in this process. This discourse should also include Armenia's Diaspora.
The efforts of Armenia's Justice Ministry, which drafted the law last year, should be welcomed by parties with longstanding values, such as the ARF. For the ARF, the law on domestic violence could be viewed, at its core, as a social justice issue. If domestic violence continues to receive inadequate attention in Armenia, then Armenian society is telling women (who make up the majority of Armenia's population) that they have less worth than men and undermines them both as citizens and as human beings; that, in turn, undermines Armenian society as a whole.
Conclusions
Modern Armenian political thought needs to deconstruct the current conservative discourse on this issue in place since its post-Communist transition in 1991. Although the issue of gender inequality consists of many sub-issues in Armenian society, this author strongly believes the changing of attitudes needs to start somewhere. The law on preventing domestic violence in Armenia could represent an important milestone in that regard. No law is perfectly drafted from the very beginning, of course, but that should not be a reason to reject it.
The narrow post-Soviet version of Armenian state nationalism has not been an able substitute for a national ideology, nor has it been a true reflection of Armenian traditional values. Gender equality should be valued in the context of equal opportunities. The international community has recognized the importance of supporting gender equality through CEDAW, the Millennium Development Goals, and other treaties and commitments to which Armenia is a signatory.
As the centennial of Armenia's statehood approaches, modern Armenian political thought needs to address deeper issues, beyond this imminent bill, such as why Armenia has the third highest rate of abortion of female fetuses in the world, behind only China and Azerbaijan. Is the pension system for Armenia properly providing for women? Why is unemployment higher among women in Armenia? How can Armenian women's NGOs connect better with their constituency and potentially empower them to self-govern in rural regions, where men are absent in large numbers, having gone abroad for work?
Armenian political thought at the dawn of 2018 needs to think big, and to see what better participation of women can do to Armenian society.
Women, who make up over 55% of Armenia's population, have been overlooked as a vital talent source. Armenian women have worked next to men in the past, and such labor did not seem hierarchical, per se, as men and women tended to work in the home and surrounding farms in the pre-industrial era. Armenian women worked to produce clothing, soap, candles, and other necessities in the home economy. When manufacturing moved out of the homes and into the factories after the industrial revolution, Armenian women, during the Soviet era, had equal rights in both work and education, along with privileges (e.g., prenatal and postnatal vacation, and legal rights to abortion since 1920). Women in Soviet Armenia were not too "feminine" to work in factories, to be successful engineers, or to participate in the Second World War.
The socioeconomic situation of Armenia's women changed drastically after 1991 as Armenia's economy plummeted along with the Soviet Union, and jobs became scarce in Armenia and poverty levels rose. In many ways, President Levon Ter-Petrosyan's hasty, nonorderly (and ultimately disastrous) privatization efforts deepened Armenia's de-industrialization. As a consequence of Armenia's post-Soviet crony neo-capitalism, many women continued losing jobs, which contributed to the de facto inferior status of women in Armenian society today.
Furthermore, there seem to be various obstacles preventing women's political participation in Armenian life today. These include gender stereotypes, gender roles, women's lack of economic independence and social capital, along with the prevailing political culture in the country. Armenian woman's role in society seems to have shrunk under the impact of bad governance, the reign of the oligarchs, and hollow state nationalism of the past 25 years.
The Armenian nation is a collective project that is worthwhile. And it involves all members of society. We need to act now to tap into the opportunity to capitalize on the significant and proven difference that women can make in Armenia. We cannot make excuses or retreat. We cannot just proclaim equality and expect the problem solved. We must create the necessary environment where equality can thrive.
Revitalizing the women's agenda in Armenia could be one of the best tributes to our founding female parliamentarians and our homage to the first republic in general. 2018 is not merely the year for Armenians to be proud of their statehood; in 2018, Armenians will also be celebrating 100 years of voting rights for women in Armenia. The law on domestic violence is a moment for a serious, and engaging national conversation among Armenians of all classes and backgrounds. It can also be a catalyst to start addressing cultural and social norms that are no longer helping Armenian society.
***
This is the second article in a series dedicated to the upcoming 100th anniversary of Armenian statehood and Armenian political thought. The first article, entitled "Beyond Nationalism: The Case for Engaged Patriotism on the Eve of the 100th Anniversary of Statehood," by Varak Ketsemanian and Raffy Ardhaldjian, can be read here. 
2015ի Հոկ­տեմ­բե­րին, իբ­րեւ դի­տորդ ներ­կայ գտնո­ւած էի Ե­րե­ւան, Հ.Օ.Մ.ի Հա­մա­հայ­կա­կան 71րդ ժո­ղո­վին, ուր ներ­կա­յա­ցո­ւած էին Հ.Օ.Մ.ի Ս­տե­փա­նա­կեր­տի «­Սօ­սէ» ման­կա­պար­տէ­զի կա­ռուց­ման ծրա­գի­րը եւ նա­խա­հա­շի­ւը։
Մեծ խան­դա­վա­ռու­թիւն ստեղ­ծո­ւած էր ժո­ղո­վա­կան­նե­րուն մօտ եւ տեղ­ւոյն վրայ մե­ծա­գու­մար նո­ւի­րա­տուու­թիւն­ներ կա­տա­րո­ւած էին՝ ե՛ւ միա­ւոր­նե­րու, ե՛ւ ան­հատ­նե­րու կող­մէ։
Շատ յու­զիչ էր ըն­կե­րու­հի­նե­րու ան­մի­ջա­կան ար­ձա­գան­գը՝ այս հսկա­յա­կան աշ­խա­տան­քին նկատ­մամբ, որ նո­րա­կերտ ու­սում­նա­կան օ­ճախ մը պի­տի ա­ւելց­նէր Ար­ցա­խի նոր սե­րուն­դի ա­ռա­ջին քայ­լե­րուն հա­մար։ Ու­րեմն վստահ էի, որ այս ծրա­գի­րը շու­տով պի­տի հաս­նէր իր ա­ւար­տին։
Իս­կա­պէ՛ս, 2017ի Սեպ­տեմ­բեր 6ին, տե­ղի ու­նե­ցաւ Ս­տե­փա­նա­կեր­տի «­Սօ­սէ» ման­կա­պար­տէ­զին բա­ցու­մը։ Յու­նաս­տա­նի Հ. Կ. Խա­չը ներ­կայ գտնո­ւե­ցաւ տա­սը ըն­կե­րու­հի­նե­րով։ Ներ­կայ էին Ար­ցա­խի նա­խա­գա­հը, Ա­ռաջ­նոր­դը, Հ.Յ.Դ. Բիւ­րո­յի ներ­կա­յա­ցու­ցի­չը, նա­խա­րար­ներ, պաշ­տօ­նա­կան հիւ­րեր։
Ման­կա­պար­տէ­զի ե­րե­խա­նե­րու ու­րա­խու­թիւ­նը եւ ա­նոնց լայն ժպիտ­նե­րը մեծ գո­հու­նա­կու­թիւն պատ­ճա­ռե­ցին բո­լոր Հ.Օ.Մ.ու­հի­նե­րուն, ո­րոնց ջան­քե­րուն շնոր­հիւ ի­րա­կա­նա­ցաւ այս նա­խա­ձեռ­նու­թիւ­նը եւ Ար­ցա­խի իշ­խա­նու­թիւն­նե­րուն յանձ­նո­ւե­ցաւ՝ Հ.Օ.Մ.ի մեծ ըն­տա­նի­քը հպար­տաց­նող ար­դիա­կան ման­կա­պար­տէզ մը։
Խոր յու­զու­մի վայր­կեան­ներ ապ­րե­ցանք, Ար­ցա­խի նա­խա­գա­հին հրա­ւի­րած հիւ­րա­սի­րու­թեան, Մար­տա­կեր­տի զօ­րա­նո­ցի այ­ցե­լու­թեան, Ար­ցա­խի միա­ւո­րի ճաշ­կե­րոյ­թին ըն­թաց­քին։ Այս ձեռ­նարկ­նե­րուն՝ ե­լոյթ­ներ ու­նե­ցած նո­ւա­գա­խումբ­ներ, պա­րա­խում­բեր, եր­գիչ­ներ, ո­րոնք ազ­գա­յին եւ յե­ղա­փո­խա­կան յայ­տագ­րով զո­ւար­ճա­ցու­ցին մեզ, իսկ բո­լոր խօ­սող­նե­րը շնոր­հա­կա­լու­թեան եւ ե­րախ­տա­գի­տու­թեան զգա­ցում­ներ ար­տա­յայ­տե­ցին սփիւռ­քի զա­նա­զան գա­ղութ­նե­րէ Ար­ցախ հա­սած մօ­տա­ւո­րա­պէս 450 Հ.Օ.Մ.ու­հի­նե­րուն, ո­րոնք ի­րենց պար­տա­կա­նու­թեան գի­տակ­ցու­թեամբ՝ միշտ սա­տար հան­դի­սա­ցած են Ար­ցա­խի ժո­ղո­վուր­դին։
Կր­նամ միայն ե­րե­ւա­կա­յել, թէ շրջա­նի հա­յու­թեան հա­մար որ­քա՜ն զօ­րա­ւոր զգա­ցում­նե­րու աղ­բիւր կ­՚ըլ­լայ՝ տես­նել Հ.Օ.Մ.ու­հի­նե­րու ներ­կա­յու­թիւ­նը, հոն ե­կած՝ միաս­նա­բար տօ­նե­լու հա­մար վե­րա­կա­ռու­ցո­ւած շէն­քի մը բա­ցու­մը, որ ի սպաս կը դրո­ւի պա­տե­րազ­մէն որ­բա­ցած եւ օգ­նու­թեան կա­րօտ ու­նե­ցող ըն­տա­նիք­նե­րու մա­նուկ­նե­րու դաս­տիա­րա­կու­թեան։ Ե­րեք յար­կա­նի շէնք մը՝ ո­րուն յա­տա­կա­գի­ծը ու­նի գրե­թէ 6 հա­զար քա­ռա­կու­սի ոտք տա­րա­ծու­թիւն, պի­տի ծա­ռա­յէ 3էն 6 տա­րե­կան 130 ա­շա­կերտ­նե­րու: Երկ­րորդ յար­կը պի­տի տրա­մադ­րո­ւի ա­ւե­լի մեծ տա­րի­քով ա­շա­կերտ­նե­րու ար­տադպ­րո­ցա­կան ծրա­գիր­նե­րուն: Այս նո­րա­կա­ռոյց շէն­քը նաեւ օժ­տո­ւած է ար­հես­տա­գի­տա­կան (internet, networking) սար­քա­ւո­րում­նե­րով, ինչ­պէս նաեւ՝ ա­պա­հով ներք­նա­յար­կով, ուր փոք­րիկ­նե­րը կրնան ա­պաս­տան գտնել յար­ձա­կու­մի ո­րե­ւէ պա­հու:
Յոյ­սի նոր կեդ­րոն մըն է «­Սօ­սէ» նո­րա­կա­ռոյց ման­կա­պար­տէ­զը Ար­ցա­խի փոք­րիկ­նե­րուն հա­մար։ Իսկ ա­նոնց ծնող­նե­րուն հա­մար՝ մնա­յուն յի­շե­ցու­մի վայր մը, թէ Հ.Օ.Մ.ի մեծ ըն­տա­նի­քը, հա­ւա­տա­րիմ իր ա­ռա­քե­լու­թեան, թի­կունք կը շա­րու­նա­կէ ըլ­լալ Ար­ցա­խի մա­նուկ­նե­րուն։
Մեզ՝ Հ.Օ.Մ.ու­հի­նե­րուս հա­մար, կա­մա­ւոր աշ­խա­տան­քի ար­դիւն­քը տես­նե­լու հնա­րա­ւո­րու­թիւ­նը կ'ամ­րաց­նէ մեր կամ­քը՝ շա­րու­նա­կե­լու մեր գոր­ծու­նէու­թիւ­նը, օգ­տա­կար հան­դի­սա­նա­լու հա­մար մեր ժո­ղո­վուր­դին, հայ­րե­նի­քի եւ սփիւռ­քի մէջ ։
Ար­ցա­խէն մեկ­նե­լէ ա­ռաջ, ա­ռի­թը ու­նե­ցանք այ­ցե­լե­լու նաեւ Մար­տա­կեր­տի զօ­րա­նո­ցը, ուր հպար­տու­թեան զգա­ցում­նե­րով լե­ցո­ւե­ցաւ մեր սիր­տը՝ տես­նե­լով մեր սահ­ման­նե­րը պաշտ­պա­նող զի­նո­ւոր­նե­րու քա­ջու­թիւ­նը եւ վճռա­կա­մու­թիւ­նը։ Երբ Դա­դի­վանք այ­ցե­լե­ցինք, հայր Յով­հան­նէ­սի թե­լադ­րան­քին հե­տե­ւե­լով բո­լորս՝ մոմ մը վա­ռե­ցինք մեր հայ­րե­նի­քի սահ­ման­նե­րը պաշտ­պա­նող հայ զի­նո­ւո­րին հա­մար։ Հայ­կա­կան սուրբ հո­ղին կառ­չած այն ե­րի­տա­սարդ­նե­րուն հա­մար, ո­րոնք հայ­րե­նա­սի­րու­թեամբ ու վե­հու­թեամբ կը ներշն­չեն բո­լոր­ս։
ԼԻԶԷԹ ԳԻՐԱԶԵԱՆ
Armenian composer Tigran Mansurian's "Requiem" has been nominated for Grammy Awards in two categories – Best Choral Performance and Best Contemporary Classical Composition.
"Requiem" is dedicated to the memory of the victims of the Armenian Genocide that was perpetrated in the Ottoman Empire from 1915 to 1923.
Also, the piece has earned a nomination for Manfred Eicher in the category Classical Producer Of The Year.
In 2005, the Armenian composer's "Monodia" album was nominated for the 2005 Grammy Award for "Best Instrumental Soloist(s) Performance (with Orchestra)" and "Best Classical Contemporary Composition."
The 60th Annual Grammy Awards ceremony will be held on January 28, 2018. The ceremony will recognize the best recordings, compositions and artists of the eligibility year, which runs from October 1, 2016 to September 30, 2017.
The global migration crisis is examined by distinguished humanitarians, academics, philanthropists and business leaders
November 27, 2017 – YEREVAN, ARMENIA – Aurora Dialogues Berlin – "Millions on The Move: Need for Development and Integration" is intended to explore how the European Union, and Germany, can contribute to humanitarian solutions by supporting development and integration. It will be held on December 4-5, 2017 at the Robert Bosch Stiftung Representative Office in Berlin, Germany. The conference is a joint effort of the Aurora Humanitarian Initiative, the Stiftung Mercator, the Robert Bosch Stiftung and the Global Perspectives Initiative.
The program of the discussions will cover the root causes of the refugee crisis and the efficiency of varying responses to it such as humanitarian relief, education and social integration.
"If we accept flight and migration for what they are: a joint humanitarian obligation – there is no doubt that we can overcome the issues together. People are not born refugees, but are made refugees. They flee violence and persecution; they flee out of fear for their lives. Being a refugee means being vulnerable and having to put your trust in the help of others," said Norbert Lammert, former president of Bundestag.
"It is significant that Aurora Dialogues, as an important international platform for thought provoking discussion on some of the most pressing humanitarian challenges, is expanding its geography," said Ruben Vardanyan on behalf of the Aurora Humanitarian Initiative co-founders. "We began in Yerevan, to put into action our gratitude to those who saved Armenians during that mass movement of people, after the genocide, in 1915. Today, we are in Berlin, in grateful partnership with those who are doing so very much to raise awareness about today's immense problems and seeking solutions. We will take the learnings from the past conferences and continue to set ground for discussions in different locations around the world."
The speakers of the Aurora Dialogues Berlin – humanitarians, academics, philanthropists and business leaders – will address the state of the global migration crisis and look at the role of different state and non-state actors, as well as development programs and solutions that can make a difference.
"The Robert Bosch Stiftung is pleased to welcome humanitarian, civil society and business leaders in Berlin. Our aim is to expand our focus and activities in the areas of migration, integration and inclusion in Germany and Europe. Therefore, we are looking forward to different perspectives aiming to identify solutions and facilitate action in society," said Prof. Dr. Joachim Rogall, President and CEO of the Robert Bosch Stiftung.
"Our partnership and Aurora Dialogues Berlin will bring unique expertise and a solution-oriented approach to the current migration crisis through more sustainable and comprehensive development and integration policies. I believe this is an important step for bringing humanitarian crises to the world's attention," said Ingrid Hamm, founder and CEO of Global Perspectives Initiative.
"Open-mindedness, respect and tolerance are at the heart of our canon of values. Especially when facing complex challenges like migration and integration these values need to be upheld. Through our partner organization, the Expert Council of German Foundations on Integration and Migration, Stiftung Mercator aims to contribute to an informed public debate and policies that are based on the best available evidence. Aurora Dialogues Berlin brings together perspectives from a variety of fields, which all are relevant to addressing the multi-faceted nature of these issues," said Winfried Kneip, Executive Director of Stiftung Mercator.
In keeping with the spirit of the Aurora Prize for Awakening Humanity, the Aurora Dialogues shine a light on the people who are working to address today's atrocities in a real and substantial manner and seek
to identify ideas that will deliver tangible change. Now in its third year, the Dialogues encourage collaborative conversations to explore the importance of learning from the past, acting in the present, and fostering a better future.
More information about Aurora Dialogues Berlin program, speakers and organizers can be found here.
About the Aurora Humanitarian Initiative
Founded on behalf of the survivors of the Armenian Genocide and in gratitude to their saviors, the Aurora Humanitarian Initiative seeks to empower modern-day saviors to offer life and hope to those in urgent need of basic humanitarian aid and thus continue the cycle of giving internationally. The Aurora Humanitarian Initiative is Gratitude in Action. It is an eight-year commitment (2015 to 2023, in remembrance of the eight years of the Armenian Genocide 1915-1923) to support people and promote projects that tackle the needs of the most helpless and destitute, and do so at great risk. This is achieved through the Initiative's various programs: The Aurora Prize for Awakening Humanity, the Aurora Dialogues, the Aurora Humanitarian Index, the Gratitude Projects and the 100 LIVES Initiative. The Aurora Humanitarian Initiative is the vision of philanthropists Vartan Gregorian, Noubar Afeyan and Ruben Vardanyan who have, already in the second year, been joined by several dozen new donors and partners. The Initiataive welcomes all who embrace a commitment to our shared humanity.
About Robert Bosch Stiftung
The Robert Bosch Stiftung GmbH is one of Europe's largest foundations associated with a private company. In its charitable work, it addresses social issues at an early stage and develops exemplary solutions. To this purpose, it develops and implements its own projects. Additionally, it supports third-party initiatives that have similar goals. The Robert Bosch Stiftung is active in the areas of health, science, society, education, and international relations. Moreover, in the coming years, the Foundation will increasingly direct its activities on three focus areas: Migration, Integration, and Inclusion, Social Cohesion in Germany and Europe, Sustainable Living Spaces. Since it was established in 1964, the Robert Bosch Stiftung has invested more than 1.4 billion euros in charitable work.
About Global Perspectives Initiative
The Global Perspectives Initiative pursues the goal of fostering the discourse about a sustainable, balanced and fair global development and by this, actively supports Germany's contribution to the fulfillment of the UN's Sustainable Development Goals of 2015. 11 out of 17 Goals are relevant to migration and refugees, which fosters the relevance for an international commitment for the SDGs and a better and more balanced development.
About Stiftung Mercator
Stiftung Mercator is a private and independent foundation. Through its work it strives for a society characterized by openness to the world, solidarity and equal opportunities. In this context it concentrates on strengthening Europe; increasing the educational success of disadvantaged children and young people, especially those of migrant origin; driving forward climate change mitigation and promoting science and the humanities. One of Germany's leading foundations, it is active both nationally and internationally. Stiftung Mercator feels a strong sense of loyalty to the Ruhr region, the home of the founding family and the foundation's headquarters. In 2017/2018, European Migration Policy is Stiftung Mercator's focal topic.
Tel: +49 30 4081 7660
For all media enquiries please contact:
Երկուշաբթի 27 Նոյեմբեր 2017ին,  Մոնթրէալի հայ կեդրոնին մէջ Հ.Յ.Դ. «Միհրան Փափազեան» կոմիտէն հանդիպում ունեցաւ Ս.Դ.Հ.Կ.ի Մոնթրէալի Վարիչ Մարմնին հետ։
Հանդիպումին մասնակից էր նաեւ Լաւալի «Սարգիս Զէյթլեան» Կոմիտէի եւ Հ.Յ.Դ. Գանատայի Կեդրոնական Կոմիտէի ներկայացուցիչները, ուր արծարծուեցան Մեծն Մոնթրէալի հայ գաղութը յուզող զանազան հարցեր, շեշտադրելով համագործակցութեան բարձր ոգին ու միասնական աշխատանքի կամեցողութիւնը, ի շահ Մոնթրէալի հայ գաղութի գոյատեւման ու Հայ Դատի հետապնդման: