ԵՐԵՒԱՆ, «Թերթ». – 28 Յունիսին տեղի ունեցաւ քաղաքացիներու փոխանակում Հայաստանի եւ Ատրպէյճանի միջեւ։ Արդարեւ, Հայաստանի Հանրապետութիւնը, հաւատարիմ մնալով միջազգային մարդասիրական իրաւունքի օրէնքներուն եւ իր ստանձնած միջազգային յանձնառութիւններուն՝ Կարմիր խաչի միջազգային կոմիտէին (ԿԽՄԿ) օժանդակութեամբ եւ անոր հովանիին տակ իրականացուց 16 Մարտին Հայաստանի պետական սահմանը ապօրինաբար հատած Էլվին Արիֆ Օղլու Իպրահիմովը Ատրպէյճան տեղափոխելու գործընթացը: Հայաստանի մէջ ԿԽՄԿ պատուիրակութեան եւ Հայաստանի պատկան մարմիններու ներկայացուցիչներուն ընկերակցութեամբ վերոնշեալ անձը յանձնուեցաւ Ատրպէյճանի մօտ ԿԽՄԿ պատուիրակութեան եւ Ատրպէյճանի իշխանութիւններու ներկայացուցիչներուն:
Հայաստանի արտաքին գործոց նախարարութենէն յայտնեցին, որ 28 Յունիսին Հայաստանի իշխանութիւններուն եւ Հայաստանի մէջ ԿԽՄԿ պատուիրակութեան ներկայացուցիչներուն փոխանցուեցաւ  20 Յունիս 2017ին չբացայայտուած պայմաններու մէջ Ատրպէյճանի տարածքին մէջ յայտնուած Հայաստանի քաղաքացի Զաւէն Կարապետեան:
Հայաստանի արտաքին գործոց նախարարութիւնը այս գործընթացին մասին խօսեցաւ «Նիուզ»ի հետ՝ դիտել տալով, որ Հայաստան Իպրահիմովը կը վերադարձնէ առանց որեւէ նախապայմանի՝ հիմնուելով մարդասիրական նկատառումներու վրայ, սակայն ասիկա փոխանակման հետ ոչ մէկ կապ ունի։
«Այս գործընթացը «Բոլորը բոլորի դիմաց սկզբունք»ի կիրառում չէ: Այստեղ խօսքը չի գնում փոխանակման մասին, քանի որ Հայաստանը հէնց սկզբից յայտարարել էր, որ ս.թ. Մարտի 16ին ՀՀ պետական սահմանն ապօրինի հատած Էլուին Արիֆ Օղլու Իբրահիմովին վերադարձնում է Ադրբեջան առանց որեւէ նախապայմանի՝ հիմնուելով հումանիտար նկատառումների վրայ: Այս գործընթացն իրականացուել է ԿԽՄԿի եւ մասնաւորապէս՝ Հայաստանում կազմակերպութեան առաքելութեան հետ սերտ համագործակցութեան միջոցով: Իբրահիմովը չէր գործել ծանր յանցանք, ուստի նրա հանդէպ կիրառելի է հումանիտար սկզբունքի հիման վրայ անհատական մօտեցումը:
«Մենք ի գիտութիւն ենք ընդունել նաեւ Ադրբեջանի որոշումը ազատ արձակելու 2017ի Յունիսի 20ին անյայտ պայմաններում Ադրբեջանի տարածքում յայտնուած ՀՀ քաղաքացի Զաւէն Կարապետեանին եւ ԿԽՄԿ հետ մէկտեղ կազմակերպել ենք նրա հայրենադարձութիւնը:
«Ադրբեջանի տարածքում պահուող ՀՀ քաղաքացիների հարցը մշտապէս եղել է ԱԳՆ ուշադրութեան կենտրոնում եւ բազմիցս բարձրացուել է տարբեր ձեւաչափերում եւ հանդիպումներում, ներառեալ՝ վերջերս ժնեւում:
«Ուրախ ենք մեր քաղաքացու՝ ազատ արձակման եւ հայրենիք վերադարձի կապակցութեամբ», նշուած է յայտարարութեան մէջ։
Այս տողերը մասնաւորապէս հասցէագրուած են բոլոր անոնց, որոնք հմայուած կը թուին ըլլալ Վարչապետ Նիկոլ Փաշինեանի իսկապէս հմայիչ հռետորաբանութեամբ։ Վարչապետը ինքզինք գերազանցեց յատկապէս իր վերջին ելոյթով, ուր ան վկայութեան կը կանչէր Արամ Մանուկեանն ու Առաջին Հանրապետութեան պետական մարդոց սերունդը զանոնք դաւանելով որպէս մաքուր և կուռ ազգային անկախ պետականութեան չափանիշներ, որոնց օրինակով, կ՚ըսէր ան, պիտի ապրին մերօրեայ իշխանութեան գործիչները առանց բացառութեան։ Խոստու՞մ. հրահա՞նգ. յիշեցու՞մ. յանձնառութիւ՞ն։ Ո՞ր մէկը ասոնցմէ։ Յամենայն դէպս՝ հրաշագործող խօսքե՛ր՝ որոնք աննախընթաց են իրենց թափանցող ազդեցութեամբ։ Ի վերջոյ ո՞ր դաշնակցականն է, որ պիտի կարենայ անտարբեր մնալ իր զգացումները հրահրող այս նախադասութիւններուն դիմաց։ Մէջբերումներ պիտի չընեմ, քանի որ Փաշինեանի ջատագովներուն (ինծի հարազատ ընկերներու) էջերը ողողուած են յորդառատ մէջբերումներով։
Կ՚ուզեմ պարզապէս յիշեցնել, որ մեր — ըսել կ՚ուզեմ ՝ հանրութեա՛ն — պարտականութիւնն է մնալ զգաստ և յանձնառու և առաջնորդուիլ իրականութեան նորմերով միայն։ Մեր պարտականութիւնն է քննել վիճակացոյցը յետին մանրամասնութեամբ փոխանակ անհիմն (համատեքստէն դուրս) զուգահեռներ փնտռելու Փաշինեանի և ՀՅԴ նուիրական դէմքերուն միջև։
Կը խօսուի այն մասին, որ արդէն իսկ յստակ տեղաշարժ գոյութիւն ունի զեղծարարութեան և փտախտի երևոյթներու հակակշռման մարզին մէջ հինին և նորին միջև։ Շատ յարգելի դէմքեր կը հաւաստեն այդ մասին։ Պէտք է անվերապահօրէն ողջունել այս երևոյթը և զայն շարունակաբար պահել լուսարձակի տակ։ Փտախտը տարերային երևոյթ է։ Ան կը չքուի մէկ օր և կը վերայայտնուի աւելի բարդ ձևերով մէկ այլ տեղ և մէկ ուրիշ օր…Հակափտախտային քաղաքականութիւնը չի կրնար սկիզբ ու վախճան ունենալ։ Ան ախտաբանական է և ունի իր տրամաբանութիւնը։ Արձանագրենք և անցնի՛նք։
Վարչապետ Փաշինեանի ջատագովները պէտք է խօսին կառավարութեան գործի հիմնական ոլորտներուն մասին։ Պէտք է խօսին կառավարութեան տնտեսական քաղաքականութեան մասին։ Մենաշնորհային համակարգի վերաբերմամբ որդեգրուած իրական վարքագծին մասին։ Կառավարութեան սոցիալական փաթեթին մասին։ Կառավարութեան որդեգրած եկամտահարկի համահարթեցման աղիտալի քաղաքականութեան մասին։ Դատական համակարգէն ներս ստեղծուած սահմանադրական քաոսին մասին։ Եռեակ իշխանութիւններու տարանջատութեան սկզբունքի խախտման վտանգաւոր երևոյթներուն մասին։ Գիւղատնտեսութեան մարզէն ներս տիրող ողբալի վիճակին մասին։ Արտագաղթի և աղքատութեան ցնցիչ երևոյթներուն մասին։ Վարչապետ Փաշինեանի աններելիօրէն ժողովրդահաճ (populist) քայլերուն մասին։ Ամբոխը պետութեան դէմ հրահրելու նախաձեռնութիւններուն մասին։ Շարքը երկար է։
Արտաքին քաղաքականութեան բեմին վրայ, ԱրտԳործՆախարար Մնացականեանի ցուցաբերած զգօն վարքագիծը այնուամենայնիւ ենթակայ է մեծ ռիսքերու, որոնք կը բխին Պր. Վարչապետի դեռևս լաւ չբանաձևուած քաղաքականութեան հետևանքներէն։ Հայաստան-Արցախ միջ-պետական յարաբերութիւններու վաղուան բնոյթէն։ Եւ առհասարակ տարածաշրջանի աշխարհաքաղաքական բարդ կառոյցը կարենալ կառավարելու կարողութիւններէն։ Այս բոլոր մարզերուն մէջ, առայժմ դեռ բաց է ու հարցական՝ ներկայ իշխանութեան վիճակացոյցը։
Ես յատկապէս տպաւորուած եմ Առողջապահութեան Նախարարին և իր թիմին հետապնդած անկեղծօրէն արմատական քաղաքականութեամբ յատկապէս հակածխախոտային պայքարի մարզին մէջ։ Կը մաղթեմ, որ ան լիովին արժանանայ Պր. Վարչապետի շարունակական զօրակցութեան։
Եւ վերջապէս կարելի չէ չխօսիլ Վարչապետի կրաւորական վերաբերմունքին մասին Արամ Մանուկեանի տան, Առաջին Հանրապետութեան Կառավարութեան Տան և այլ նմանօրինակ ազգային պարտաւորութիւններու հանդէպ, որոնց մասին լայնօրէն խօսած եմ բազմաթիւ յօդուածներով առանց դոյզն իսկ արձագանգ ստանալու Փաշինեանի նորօրեայ ջատագովներէն։
Հետևաբար հանրութեան — և այս պարագային արտախորհրդարանական ընդդիմութեա՛ն (իմա Դաշնակցութեան) — պարտաւորութիւնն է անցնիլ անդին քաղաքական հռետորաբանութեան սահմաններէն և փնտռել հանրօգուտ միջուկը ներկայ իշխանութեան գործին։ Ընդդիմութեան առաքելութիւնն է հետևողականօրէն պահանջել այդ գերազանցութիւնը։ Մեր առաքելութիւնն է Վարչապետ Փաշինեանը մղել դէպի այն նշաձողը, որ թելադրուած է Հայաստանի, Արցախի և հայութեան ազգային գերագոյն շահերէն։ Դաշնակցութիւնը պիտի ներկայանայ հանրութեան իր այլընտրանքային ծրագրով։ Այդ մէկը չի նշանակեր սակայն, որ Դաշնակցութիւնը ինքզինք խզած է կառավարութեան կեանքէն։ Դաշնակցութիւնը իր հաստատած վերոյիշեալ նշաձողով անքակտելի մասն է պետական գործընթացին։ Եւ այդ նշաձողն է միայն, որ գործնականօրէն կը միացնէ ազգը նոյն գերամեծար նպատակներուն շուրջ՝ ազգային միասնականութիւնը համարելով անսակարկելի և անյետաձգելի այժմ և միշտ։
Կարօ Արմենեան
Յունիս 27, 2019
Ուաշինկթըն
Armenian judoka Susanna Stepanyan (40 kg weight category) has become the European champion among juniors, reports the press service of the National Olympic Committee.
At the European Junior Championships, held in Warsaw, Poland, the athlete from the twon of Gyumri secured three victories and reached the final to beat Luca Mamira, the Hungarian representative, too.
More than 300 athletes from 30 countries are taking part in the European Championships.
ՊՈԼԻՍ, «Մարմարա», «Ակօս».- Պոլսոյ Հայոս պատրիարքական ընտրութեան հարցը դժբախտաբար անգամ մը եւս մտաւ դժուարութիւններու եւ բամբասանքներու գործընթացի մը մէջ։ Ի՞նչ կ՛անցնի կը դառնայ, շատ յայտնի չէ, եւ պատրիարքարանի պատասխանատուութիւնը ստանձնած հոգեւորականները ոչ միայն գոհացուցիչ պատասխաններ չունին, այլ նաեւ ներքին պառակտումի մը մէջ ինկած ըլլալ կը թուին։
Ինչպէս յայտնի է, 27 Յունիսին տեղի պիտի ունենար տեղապահի ընտրութիւն եւ երկու թեկնածուներն էին՝ Արամ արք. Աթէշեան ու Սահակ եպս. Մաշալեան։ Ամէն մարդ կը հաւատար, որ տեղապահի ընտրութեամբ առաջին լուրջ քայլը առնուած պիտի ըլլար դէպի պատրիարքական ընտրութիւն։ Բայց, 26 Յունիսի երեկոյեան, Արամ սրբազանի ստորագրութեամբ հրատարակուցաւ զեկոյց մը՝ ըստ որուն, Պոսլոյ կուսակալութիւնը ջնջած է 27 Յունիսի ընտրութիւնը եւ մէկ շաբաթով յետաձգած է զայն։ Պատճառին մասին լուսաբանութիւն մը չկար։
Այս անհաճոյ լուրին հրապարակումէն անմիջապէս ետք, ընկերային ցանցերու վրայ սկսաւ բանավէճ մը Արամ սրբազանի կողմնակիցներուն եւ հակառակորդներուն միջեւ ու ոմանք դարձեալ Արամ սրբազանը պատասխանատու նկատեցին այս յետաձգումին, պնդելով, որ վախցած է չընտրուելու հաւանականութենէն։
Արամ սրբազանը աւելի ուշ գրեց հետեւեալը. «Պետութիւնը նիւթի մը շուրջ որոշում մը կ՛առնէ. կարգ մը անձեր, որոնք յետին նպատակ ունին, պետութեան այդ որոշումն ալ ինծի կը վերագրեն։ Ես ինչ եմ եղեր, որ չէի գիտեր։ Ես կը սպասեմ, որ Սահակ սրբազանը անոնց պատասխան մը տայ, որովհետեւ ան լուր ունի բոլոր այս զարգացումներէն։ Տեղապահի ընտրութիւնը կուսակալութենէն եկած գրաւոր հրահանգով մը 4 Յուլիսին յետաձգուեցաւ»։
«Մարմարա»ն 27 Յունիսին կապ հաստատեց Սահակ սրբազանին հետ, որ կրկնեց Արամ սրբազանի պնդումները։
Իր կարգին, Ս. Փրկիչ հիւանդանոցի հոգաբարձութեան ատենապետ Պետրոս Շիրինօղլու յայտնեց, թէ պետութիւնը կը պնդէ, որ տեղապահ կրնան ընտրուիլ միայն այն հոգեւորականները, որոնք առնուազն հինգ տարի պաշտօնավարած են Թուրքիոյ մէջ։
«Տակաւին երէկ (25 Յունիսին) կը կարծէինք, թէ տեղի պիտի ունենայ տեղապահի ընտրութիւն, թէեւ շատ հաւատալիք բան չէ բայց, թերեւս մեր հոգեւորականները ունենան որոշ անհատական հեղինակութիւն, թէ՛ ժողովուրդին եւ թէ իրենց սեփական կամքով ընտրեն տեղապահը: Այսօր հնչած ծանուցումով յայտնի եղաւ, թէ փոխուած է տեղապահի ընտրութեան թուականը: Պատրիարքարանէն եկած գրութեան մէջ գոհացուցիչ ոչ մէկ բացատրութիւն կար կատարուածին մասին», կը գրէ «Ակօս»ը՝ աւելցնելով. «Վերջին պահուն գործադրուած խաղով մը տեղապահի թեկնածութեան իրաւունքը յափշտակուած էր Պէքճեան սրբազանէն։ Ան յայտարարեց, որ կատարուելիք տեղապահի ընտրութիւններուն կը զօրակցի Մաշալեան եպիսկոպոսին՝ գրելով. «Զիս չհրաւիրեցին Պոլիս: Արգելք հանդիսացան ընտրութեան մասնակցելուս: Ես ամենաճիշդը կը գնահատեմ Սահակ եպս. Մաշալեանի տեղապահ ընտրուիլը: Այսպիսով աւելի թափանցիկ գործընթացք մը կրնանք ունենալ: Հոգեւորականները իրենց ձայները պէտք է տան Սահակ սրբազանին»:
The Artsakh Foreign Ministry Thursday welcomed and hailed Rep. Brad Sherman for offering an amendment this week to the National Defense Authorization Act that would block the transfer of U.S. defense articles that strengthen Azerbaijan's offensive airstrike capabilities.
The amendment, which Sherman introduced Tuesday, aims to limit Baku's ability to act upon its standing threat to shoot down civilian aircraft operating out of Artsakh's Stepanakert Airport.
The Artsakh Foreign Ministry said in its statement that Sherman's initiative "is relevant, since Azerbaijan has not abandoned its threats to shoot down civilian aircraft in Artsakh or to use force against the civilian population of Artsakh."
"The resuming the operation of the Stepanakert airport is a sovereign right of Artsakh and pursues purely civil and humanitarian goals, in particular, the exercise of such an inalienable right as freedom of movement," explained the foreign ministry statement.
"The ongoing Azerbaijani blockade has become a permanent and serious obstacle to the realization of the right to free movement of the civilian population of Artsakh, along with other fundamental human rights enshrined in the Universal Declaration of Human Rights and other major international treaties," added the Artsakh foreign ministry.
"This posturing by Azerbaijan clearly demonstrates its blatant disregard for human rights and fundamental freedoms and is a continuation of its policy of collective punishment of the civilian population," said the Artsakh foreign ministry, which urged the international community to condemn and counter the Azerbaijan's actions.
BY ARA KHACHATOURIAN
Which Joe Biden?
That's a fair question. It's one that is likely being asked by Armenian American voters in key primary states, from California to Massachusetts.
There's the Joe Biden who strongly fought denial of the Armenian Genocide as a U.S. Senator.
Then, there's the Joe Biden who was part of an Obama/Biden Administration, that came into office having promised to recognize the Armenian Genocide. But which, once in office, doubled down on U.S. complicity in Turkey's obstruction of justice for this crime.
That's a 180 seldom seen in American politics.
It's not some innocent tale about two policy novices, in over their head, making naive and unrealistic political promises.
Not at all.
This was a political move by two well-informed, fully-briefed veterans of the U.S. Senate Foreign Relations Committee—Barack Obama and Joe Biden. Their public records on this issue are far too extensive (and well documented) for them to plead ignorance as an excuse.
They knew what they were doing.
Having gotten what they wanted—in the form of votes and support during the 2008 election—they not only turned their back on their pledge, they went all-in for Turkey's denialist campaign in Washington, D.C. Along the way, they tossed those they promised under the bus. No meetings. No explanations. Certainly no apology.
Instead, Armenian Americans got:
Obama/Biden breaking their explicitly stated and repeated campaign pledges to properly commemorate the Armenian Genocide.
Obama/Biden actively backing the Turkey-Armenia Protocols and calling for a "historical commission" to examine a known genocide as a disputed set of competing claims.
Obama/Biden opposing passage of a U.S. House resolution, H.Res.252, commemorating the Armenian Genocide during its consideration by the Foreign Affairs Committee.
Obama/Biden describing the Armenian Genocide a matter for "historical debate, through an on-the-record statement by their Secretary of State.
Obama/Biden filing an official brief opposing Supreme Court consideration of a case allowing descendants of Armenian Genocide survivors to pursue insurance claims.
Seven years into their time in office—with Turkey having made a mockery of the Protocols and the eyes of the world upon the Administration during the Armenian Genocide Centennial in April of 2015—they had a chance to get it right.
But, they doubled down again.
No hope. No change. Just denial.
So, the question remains: Which Joe Biden?
He had two years to tell us what he thinks.
Now, it's our chance to show him where we stand.
(Armradio) – Artsakh has welcomed the amendment to the National Defense Authorization Act (NDAA) submitted by U.S. Congressman Brad Sherman, which blocks transfer of defense articles or services that improve Azerbaijan's offensive air capabilities or air defense systems, which could threaten civil aviation.
"This initiative is topical, since Azerbaijan has not abandoned its threats to shoot down civilian aircrafts in Artsakh or to use force against the civilian population of Artsakh," the Foreign Ministry said.
"The rehabilitation of the Stepanakert airport is the sovereign right of Artsakh and pursues purely civil and humanitarian goals, in particular, the exercise of such an inalienable right as freedom of movement. The ongoing Azerbaijani blockade has become a permanent and serious obstacle to the realization of the right to free movement of the civilian population of Artsakh, along with other fundamental human rights enshrined in the Universal Declaration of Human Rights and other major international treaties. This position of Azerbaijan clearly demonstrates its open disregard for human rights and fundamental freedoms and is a continuation of its policy of collective punishment of the civilian population," Spokesperson of Artsakh Foreign Ministry Ani Sargsyan said.
"Moreover, such actions are internationally wrongful acts of Azerbaijan and should be seriously counteracted by the international community," she stated.
The Government of Armenia has approved a decision on providing free healthcare for people under the age of 18.
Before this decision, only children up to 7 years of age were provided with free healthcare.
Deputy Healthcare Minister Anahit Avanesyan presented the initiative to the Cabinet today. She said the forecast deficit until yearend will be compensated and the government will provide 1,75 billion drams.
Յունիս 26-ին, Հայոց ազգագրութեան եւ ազատագրական պայքարի պատմութեան թանգարանին կողմէ շնորհակալագրի եւ յուշամետալի արժանացան Թորոնթոյի մէջ Հայաստանի Հանրապետութեան պատուոյ հիւպատոս Վարուժան Լափոյեան, որուն բարերարութեամբ Սարդարապատի յուշահամալիրի տարածքին մէջ կառուցուեցաւ Արամ Մանուկեանի 140-ամեակին նուիրուած յուշակոթողը եւ գանատահայ Յակոբ Ճանպազեանը, որուն կը պատկանի յուշակոթողի ստեղծման նախաձեռնութիւնն ու գաղափարը: Այս մասին կը հաղորդէ Torontohye.ca-ը։
Արամ Մանուկեանի յուշակոթողին առջեւ տեղի ունեցած արարողութեան ընթացքին Հայոց ազգագրութեան թանգարանի տնօրէն Կարէն Արիստակեսեան շնորհակալութիւն յայտնեց Վարուժան Լափոյեանին՝ որպէս յուշարձանի բարերարի եւ Յակոբ Ճանպազեանին՝ որպէս մտայղացման իրականացնողի։ «Արամ Մանուկեանը մեզի վերադարձուց մեր 500-ամեայ երազը՝ ազատ, անկախ Հայաստանի Հանրապետութիւնը։ Դուք մեզի՝ բոլորիս վերադարձուցիք Արամ Մանուկեանը 100-ամեայ հեռաւորութենէն ներկայ գտնուելու այստեղ՝ իր ներկայութեամբ զարդարելու այս յուշահամալիրը։ Ուրախ եմ եւ հպարտ, որ ինծի բախտ վիճակուեցաւ ձեր միջոցով իրականութիւն դարձնելու այս մտայղացումը։ Հպարտ եմ նաեւ, որ իմ տնօրինութեան օրօք կրցանք այս ծրագիրը իրականացնել։ Կը մաղթեմ ձեզի երկար կեանք, յաջողութիւն ձեր բարեսիրական գործունէութեան մէջ», ըսաւ թանգարանի տնօրէնը։
Այնուհետեւ ան Վարուժան Լափոյեանն ու Յակոբ Ճանպազեանը պարգեւատրեց Սարդարապատի Հերոսամարտի 100-ամեակի կրծքանշանով եւ շնորհակալագիրով։
Ինչպէս նաեւ պր․ Լափոյեանին յանձնուեցաւ Սարդարապատի ազգագրական թանգարանի բակեկամի կրծքանշան եւ պատուոգիր։
Պր․ Լափոյեան շնորհակալութիւն յայտնեց, որ առիթ ունեցած է մասնակից ըլլալու այս յուշակոթողի իրականացման ծրագիրին մէջ, ինչպէս նաեւ շնորհակալութիւն յայտնեց Պաշտպանութեան նախարար Դաւիթ Տոնոյեանին եւ վարչապետ Նիկոլ Փաշինեանին, որոնք քաջալերեցին այս ծրագիրը։
Յակոբ Ճանպազեան իր հերթին երախտիքի եւ շնորհակալութեան խօսք ուղղեց թանգարանի տնօրէնին եւ բոլոր անոնց, որոնց շնորհիւ իրականութիւն դարձաւ Արամ Մանուկեանի յոշակոթողի իրականացումը։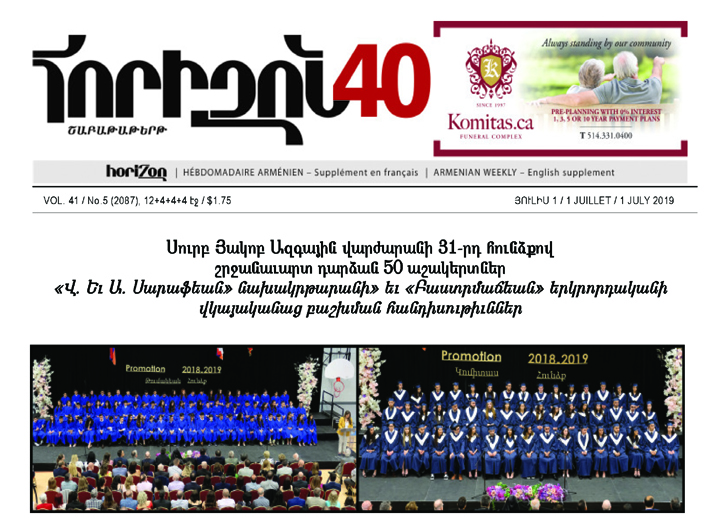 Armenian singer Andy Madadian will receive a star on the Hollywood Walk of Fame., the Hollywood Chamber of Commerce's Walk of Fame Selection Committee has announced.
The newest honorees were chosen from hundreds of nominations at a selection committee meeting held in June and will be ratified by the Hollywood Chamber's Board of Directors.
Actress and singer Vanessa Williams, a committee member for the 2019-2020 Selection Committee and herself a walk-of-famer, announced the new honorees with Rana Ghadban, President & CEO of the Hollywood Chamber of Commerce.
Madadian will be among other musicians such as, Elvis Costello, Billy Idol, Curtis "50 Cent" Jackson, Alicia Keys and Tanya Tucker who will receive stars in 2020.
Dates have not been scheduled for these star ceremonies. Recipients have two years to schedule star ceremonies from the date of selection.
(World Nuclear News) – TVEL and Haykakan Atomayin Electrakayan – Armenian Nuclear Power Plant – have signed contractual documents for supplies of Russian nuclear fuel in 2019-2020. TVEL, the nuclear fuel manufacturer subsidiary of Russian state nuclear corporation Rosatom, said that a stock of fresh nuclear fuel had already been provided to the site of the power plant in Metsamor in compliance with a supplement signed in 2017 to their general contract.
Artur Baghdasaryan of Armenian NPP and Oleg Grigoriyev from TVEL (Image: Rosatom)
The agreement was signed by Artur Baghdasaryan, deputy director general of Armenian NPP., and Oleg Grigoriyev, TVEL's senior vice-president for Commerce and International Business.
In 2011, the Armenian Nuclear Regulatory Authority granted the plant an operating licence extension until 2021, subject to annual safety demonstration since 2016. The plant is preparing to submit an application for a second licence renewal to extend its operating lifetime until 2026.
Grigoriyev said in the company statement today that the latest supplement to the general contract will provide for all tof Armenian NPP's fresh nuclear fuel needs, as well as replenish its existing stock of fuel.
"TVEL traditionally offers its Armenian partners nuclear fuel supplies with favourable conditions. Along with other matters, we take into account the ongoing life-extension works at the only nuclear power unit in the country, as the project currently limits the power generation output of the facility," he said.
The general fuel contract between the two sides is valid for the whole useful life of the unit, including its life extension, TVEL said. The 407.5 MWe VVER-440 reactor is running on vibration-resistant fuel produced by TVEL's fabrication facility Elektrostal Machine-Building Plant.
The Metsamor plant comprises two Russian-built 376 MWe VVER reactors which started operating in 1976 and 1980, respectively. Both units were taken off line in 1988 due to safety concerns regarding seismic vulnerability, although they both continued to operate and had not sustained any damage in a major earthquake in the region earlier that year. Unit 2 was restarted in 1995, and is subject to ongoing safety improvements. Unit 1 is now being decommissioned.
BY HARUT SASSOUNIAN
Thirty four years ago the United Nations Sub-Commission on Prevention of Discrimination and Protection of Minorities adopted a report acknowledging the Armenian Genocide as a case of genocide. Until recently, there has been no other activity at the UN on this issue. Unexpectedly, on March 25, a surprising letter was sent to Ambassador Sadik Arslan, Turkey's Permanent Representative to the United Nations in Geneva, Switzerland. The letter was sent by three UN entities: Bernard Duhaime, Chair-Rapporteur of the Working Group on Enforced or Involuntary Disappearances; David Kaye, Special Rapporteur on the promotion and protection of the right to freedom of opinion and expression; and Fabian Salvioli, Special Rapporteur on the promotion of truth, justice, reparation and guarantees of non-recurrence.
The joint UN letter asked the Turkish Ambassador to provide answers within 60 days to the following seven questions:
Please provide any information and/or comment(s) you may have on the allegations: …violations attributable to Turkey in relation to the tragic events that affected the Armenian minority from 1915 to 1923, and their consequences for the population concerned.
What policies have been put in place by your Excellency's Government to respond to these allegations?
What measures has Turkey taken to establish the facts, including the fate or whereabouts of Armenians who were subjected to forced internal displacement, detention, extrajudicial killings and enforced disappearances during the period of 1915 – 1923?
What measures have been taken to ensure the right of victims and of society as a whole to know the truth about these events, and to ensure the right of victims to justice and reparations for the damage suffered?
What measures have been taken to locate, insofar as possible, the bodies of Armenians who died as a result of these events?
Please provide information about the reasons for the adoption of the 2017 legislation preventing lawmakers from making certain expressions. Please explain how this is compatible with international human rights law, in particular with Article 19 of the International Covenant on Civil and Political Rights.
Please provide detailed information about the cases in which Article 301 of the Criminal Code has been applied to punish individuals for statements made alleging crimes against Armenians.
The joint UN letter described in detail the atrocities committed against Armenians "from 1915 to 1923:"
The Ottoman Empire and its succeeding Turkish Republic [which] implemented a policy of mass relocation of the Armenian minority living in the eastern part of the country. Hundreds of thousands (estimates range between 600,000 and 1,500,000) of persons belonging to that minority were subject to that policy, which resulted in widespread violence against that population. Their forced deportation reportedly started in March 1915 mainly in Anatolia but also in other parts of the country. Armenians were expelled from their ancestral lands. On the night of 24th April 1915, hundreds of political and intellectual leaders were arrested in Constantinople and then transferred to other places. As a result, Armenian elites disappeared almost completely. This was followed by a systematic policy targeting the entire Armenian population in each province and in each Vilayet, the official objective of which was to displace by force the Armenian population from the eastern provinces of Anatolia to Aleppo and camps in the Syrian Desert. Armenians were subjected to forced marches. Most of them allegedly died progressively from exhaustion, starvation, diseases or from massacres, and in most cases their remains were abandoned. Upon arrival, the few surviving people were detained in camps in conditions which may have amounted to torture or cruel, inhuman or degrading treatment; most of them were subsequently killed. The process persisted through 1923. It is alleged that these actions could constitute enforced disappearances to the extent that:
(i) Armenians in Turkey were subjected to arrests, detentions, or abductions or were otherwise deprived of their liberty;
(ii) These acts are reportedly attributable to officials or different branches or levels of government;
(iii) The Government has not disclosed so far the fate or whereabouts of the persons concerned.
The UN letter also criticized Turkey's denial:
It is also reported that Turkey not only refuses to acknowledge these events, but also intentionally engages in denial and obstruction of the truth about the fate or whereabouts of the victims…While we do not wish to prejudge the accuracy of these allegations, we wish to express our concern at the reported denial, and ensuing lack of progress in establishing the truth and ensuring justice for the forcible deportation of Armenians between 1915 and 1923, which resulted in massive suffering, ill-treatment and deaths. The lack of progress in establishing and acknowledging the relevant facts, not only affects the dignity of victims and their descendants, but can also hinder the possibility of initiating measures aimed at preserving the memory and establishing the truth.
On May 17, within 60 days of the UN request, the Turkish Ambassador responded with a three-page letter stating that the UN letter "will be left unanswered by the Government of Turkey." Ambassador Arslan further stated, "My authorities were rather baffled by the communication," which he described as "ill-intended and politically motivated."
Other than denying the statements contained in the UN letter, Arslan also quoted the UN Secretary General Ban-Ki Moon and his spokesman Farhan Haq, claiming that the UN had never taken a position on events that took place before the UN was established. Both the Secretary General and his spokesman are wrong, because the UN had set a special day to commemorate the Jewish Holocaust which had occurred before the UN was founded in 1945. Furthermore, I interviewed Haq and asked him about the 1985 UN Sub-Commission's Genocide Report, which had acknowledged several genocides, including the Armenian Genocide, all of which had taken place before the UN was established. Haq told me that he was aware of the UN Sub-Commission's Genocide Report, but he was referring to the lack of acknowledgment by the UN General Assembly.
In addition, the UN authors attached to their letter an annex quoting from the International Humanitarian Law, which stated that:
Principle 2 of the updated Set of Principles for the Protection and Promotion of Human Rights through Action to Combat Impunity establishes the inalienable right of all persons to know the truth about past events concerning the perpetration of heinous crimes and about the circumstances and reasons that led to them. Full and effective exercise of the right to the truth provides a vital safeguard against the recurrence of violations. Principle 4 stipulates that victims and their families have the imprescriptible right to know the truth about the circumstances in which violations took place and about the victims' fate.
Finally, Arslan repeated the same untruth about Armenia not responding to a letter from Turkey in 2005 proposing "to establish a joint commission consisting of historians and other experts to study the events of 1915." This is a lie. Armenia did respond, suggesting that the proposed commission review all outstanding issues between the two countries, not just the Armenian Genocide. Turkey was the one that never responded.
As a next step, now that the Armenian Genocide issue has been raised at the UN once again, it is incumbent on the Republic of Armenia to formally place the UN letter and the Turkish denialist response on the agenda of the UN Human Rights Council and pursue compensation and justice for the million and a half victims of the Armenian Genocide.
A line of Armenian refugees, predominantly women and children, walking toward Kharput. Ottoman Empire, ca. 1915. Photograph taken by Leslie A. Davis. Davis was one of 13 American consuls stationed in the Ottoman Empire. Many of these diplomats were eyewitnesses to atrocities and sent dispatches to the US ambassador in Constantinople, Henry Morgenthau Sr. While traveling by horseback in eastern Anatolia, Davis documented forced marches and massacre sites. —Laurence MacDaniels papers, #21-25-815. Division of Rare and Manuscript Collections, Cornell University Library.
By David Boyajian
Shamefully, leading Jewish organizations have long diminished or denied the 1915–23 genocide Turkey committed against 1.5 million Christian Armenians.
"It's all about the Benjamins [$100 bills], baby," Tweeted Congresswoman Ilhan Omar in February.  She was accusing super-wealthy AIPAC (American Israel Public Affairs Committee) of bribing Congress into supporting Israel.
AIPAC, ADL (Anti-Defamation League), AJC (American Jewish Committee), B'nai B'rith, and Congress condemned Omar as anti-Jewish.
2,153 persons at JewsWithIlhan.org, though, defended her.
AIPAC can't legally donate to politicians.  Its Congressional Club members, however, must do so.  AIPAC members 'bundle' individual political contributions.   Some AIPAC officials head political action committees (PACs) which back candidates.  And an AIPAC affiliate flies Congresspersons to Israel.
[Related article: Why It's Ilhan Omar's Critics Who Are Fueling Anti-Semitism[/dropcap]
After Israel, Jewish organizations' imperative is the Holocaust.
They've steered Holocaust legislation — regarding commemorations, education, monuments, museums, reparations, and war crimes — through Congress, state and foreign legislatures, and the U.N.
America has special Holocaust and Anti-Semitism envoys.
Diminishing/denying the Holocaust is a crime in many European countries.
Yet leading Jewish organizations have long diminished/denied the 1915–23 genocide Turkey committed against 1.5 million Christian Armenians on their ancient homeland.
Also, AIPAC, ADL, AJC, B'nai B'rith, and JINSA (Jewish Institute for National Security of America) have colluded with Turkey to defeat Armenian Genocide resolutions in Congress.  Demanding Holocaust legislation while thwarting recognition of another genocide is hypocrisy and moral bankruptcy.
"The Holocaust," says Israeli journalist Yossi Melman, is often "an instrument of policy, not a moral compass."
Turkish-Israeli-American Jewish collusion
Beginning in or before the 1980s, Turkey sought help against critics, including Armenian and Greek Americans, of its human rights abuses.  Turkey's then-ally Israel enlisted Jewish American organizations into defending Turkey.   Jewish/Israeli/Turkish media have penned millions of words confirming this.
JINSA's Yola Habif Johnston confessed in 2006 that AIPAC, AJC, B'nai B'rith, and her organization "have been working with the Turks" for more than 15 years.  "The Jewish lobby has quite actively supported Turkey to prevent the so-called Armenian genocide resolution from passing."  ADL was similarly guilty.
In 2007–8, Massachusetts' Armenian Americans confronted the ADL.  Hundreds of principled Jewish and non-Jewish activists, scholars, journalists, and organizations throughout America and internationally approved of the Armenian-led campaign.
Arlington, Bedford, Belmont, Lexington, Medford, Needham, Newburyport, Newton, Northampton, Peabody, Somerville, Watertown, Westwood, and the Mass. Municipal Assoc. expelled ADL's phony No-Place-for-Hate program.
Numerous Jews and Israelis have sympathized with Armenians more than have many Christians.  Though Israel won't acknowledge the Armenian Genocide, the Knesset's Education Committee wants it to.
Three years ago, ADL finally recognized the Armenian Genocide but merely on a "blog."  And its pledge to boost Armenian resolutions remains unfulfilled.  Too little, too late anyway.  The ADL is certainly no civil/human rights group.
For example, in 1993-2002 the ADL settled two lawsuits and paid compensation to San Francisco after — among innumerable illegalities — spying on thousands of civil rights, labor, progressive, Democratic, Black, Latino, Arab, Asian, Jewish, anti-Apartheid, and LGBT organizations and individuals.
More genocide hypocrisy
In Turkey's propaganda film Blonde Bride, AJC Director Barry Jacobs illogically claimed the Armenian massacres couldn't be genocide since the Holocaust was "unique."  Jewish jurist Raphael Lemkin, however, coined the word 'genocide' in 1944 and cited the Armenian massacres as a seminal genocide.
Jacobs once cruelly boasted that AJC's stance on the Armenian Genocide was "bs."  AJC, he vowed, "will be Turkey's friends officially in Congress."
"Official" AJC-Turkish collusion probably violates the Foreign Agents Registration Act.
AJC board member and Maryland State Senator Cheryl Kagan once maliciously compared an Armenian Genocide resolution to designating a state cat.
According to Israeli Pres. Shimon Peres, AJC Executive Director David Harris is Jews' "foreign minister."  Harris and AJC are allies of Azerbaijan (Turkey's corrupt, repressive ally) and its Armenian-Genocide-denying tyrant, Pres. Ilham Aliyev.
AJC's "Democratic values for all" motto rings hollow, especially as Harris proudly accepted the tyrant's coveted "Order of Friendship" award.
Azerbaijan's "lobby in the U.S.," declared Aliyev, "is the Jewish community."
Indeed, Boston-based Rasky Partners officially represents Aliyev's brutal regime.  CEO Larry Rasky is an ADL board member/honoree and Joe Biden adviser/fundraiser.  Interestingly, Rasky's friend, workmate, and fellow ADL board member Peter Meade, a Catholic, loudly opposed Boston's Armenian Heritage Park.
Shamefully, many Jewish writers worldwide have been gratuitously slandering Armenian Americans and Armenia, all because Israel buys oil from and sells billions in weapons to Azerbaijan, Armenia's adversary.
Only in 2015 did AJC say it would support U.S. acknowledgment of the Genocide.  AJC's promise remains unfulfilled.  Too little, way too late.
AIPAC, revealed Turkish journalist Sedat Sertoğlu, once threatened House Speaker Dennis Hastert he'd lose "Jewish votes" if an Armenian Genocide resolution succeeded.  Shimon Peres pushed President Clinton into stopping the resolution.  Scholar Israel Charny blasted Peres: You've crossed "a moral boundary no Jew … should trespass … [your] denial of the Armenian Genocide [is] comparable to denials of the Holocaust."
Investigations needed
Though Jewish groups aren't solely at fault, their genocide hypocrisy and clout make them uniquely blameworthy.
Jewish organizations believe Holocaust diminishment/denial is anti-Semitism and, hence, "hate."  When those organizations diminish/deny the Armenian Genocide, are they not anti-Christian-Armenian "hate" groups?
Israeli-Turkish relations have soured.  Jewish groups sold their souls for nothing.
Their opportunity to apologize, open their Turkish-related archives, and make reparations is gone.
Also gone is their credibility on civil/human rights and genocides.
Congress and state legislatures must now investigate and subpoena these two-faced organizations.
David Boyajian is a Massachusetts-based freelance journalist.
The California Congressman's Amendment would Block U.S. Support for Azerbaijani Military's Airstrike Capabilities
WASHINGTON—Congressman Brad Sherman (D-CA), a senior member of the House Foreign Affairs Committee, on Tuesday filed an amendment that would block the transfer of U.S. defense articles that strengthen Azerbaijan's offensive airstrike capabilities, reported the Armenian National Committee of America. The initiative aims to limit Baku's ability to act upon its standing threat to shoot down civilian aircraft operating out of Artsakh's Stepanakert Airport.
"This amendment will send a strong message to Azerbaijan that it cannot threaten to shoot down civilian aircraft. Azerbaijan must not be allowed to intimidate its neighbors. The last thing we should do is help strengthen Azerbaijan's air defenses in any way," stated Rep. Sherman, upon filing the amendment.
ANCA Executive Director Aram Hamparian concurred, noting: "This common-sense amendment is needed to signal Azerbaijan that the United States stands unconditionally against any and all threats to destroy civilian aircraft. No U.S. taxpayer-funded defense articles should ever be deployed by a nation that is on record threatening to use its offensive air capabilities to kill innocent passengers."
In March of 2011, Arif Mamadov, the Director of Azerbaijan's Civil Aviation Administration, reported that the Azerbaijani government had warned the International Civil Aviation Organization (ICAO) that it had not authorized flights to Nagorno Karabakh, explaining that "The law on aviation envisages the physical destruction of airplanes landing in that territory." The Azerbaijani government has neither withdrawn this threat, nor agreed that its forces will not shoot down civilian aircraft. As a result, the civilian airport in Stepanakert has remained closed for the past eight years, depriving the citizens of Artsakh and others of their universally recognized right to travel.
The text of the Sherman Amendment states that "none of the funds authorized to be appropriated by this Act or otherwise made available to the Department of Defense for fiscal year 2020 may be used to transfer defense articles or services that improve Azerbaijan's offensive air capabilities or air defense systems, which could threaten civil aviation in the Caucasus region."
The U.S. House Rules Committee is set to meet during the week of July 8th, following the Independence Day recess, to consider whether this amendment, and hundreds of others offered to the National Defense Authorization Act (NDAA), will be ruled in order and allowed to come to an up-or-down vote of the full House of Representatives.
ԵՐԵՒԱՆ, «Արմէնփրէս».- 25 Յունիսին, ԵԽԽՎի ամպիոնէն Հայաստանի Ազգային ժողովի պատգամաւոր Նայիրա Զոհրաբեան՝ բարձրացնելով չճանչցուած պետութիւններու, մասնաւորապէս՝ Արցախի ժողովուրդին կրթական եւ առողջապահական իրաւունքի հարցը, ըսաւ, որ Արցախի ժողովուրդը ունի նոյն իրաւունքները, զորս ունի դահլիճին մէջ նստած իւրաքանչիւր անձ։
«Այսօր լրջագոյն խնդիր է, որ չճանաչուած պետութիւնների բնակչութիւնը զրկուած է եւրոպական կրթական ծրագրերում ներգրաւուելուց եւ այդ գործընթացի մասնակիցը լինելուց:
Հիմք ընդունելով ԵՈՒՆԵՍՔՕի կողմից 1960թ. Դեկտեմբերի 14ին ընդունուած՝ «Կրթական ոլորտում խտրականութիւնների դէմ» կոնվենցիան, մէկ անգամ եւս ուզում եմ ձեր ուշադրութիւնը հրաւիրել Արցախի Հանրապետութեան բնակչութեան համար անչափ կարեւոր՝ կրթական որակաւորման չճանաչուածութեան խնդրի վրայ: Արցախում ապրող մասնագէտները, ուսանողներն ու աշակերտները զրկուած են միջազգային ստանդարտներին համապատասխան կրթութիւն ստանալու իրաւունքից: Ի հարկէ, Արցախի իշխանութիւնները գործադրել են լրջագոյն ջանքեր՝ իրենց քաղաքացիների համար ստեղծելով բոլոր պայմանները կրթական իրաւունքի լիարժէք իրագործման համար, եւ այսօր Արցախում գործում է 219 դպրոց, 6 միջին մասնագիտական եւ 5 բարձրագոյն ուսումնական հաստատութիւն, սակայն Արցախի քաղաքացիների համար երկրի սահմաններից դուրս մշտապէս առաջանում են անլուծելի խնդիրներ եւ խոչընդոտներ:
Մասնաւորապէս.
Կրթական աւարտական վկայականների չճանաչուածութիւնը հետագայ մասնագիտական զարգացման լուրջ խոչընդոտներ է ստեղծում արցախի բուհերում սովորող հազարաւոր ուսանողների համար:
Արցախի ուսանողները դուրս են մնում Եւրոպական բարձրագոյն կրթական տարածքից, չեն օգտւում Բոլոնիայի գործընթացով երաշխաւորուած ծրագրերից:
Մինչդեռ, ԵՈՒՆԵՍՔՕի կոնվենցիայի առանցքային դրոյթներից մէկը մարդու կրթութեան իրաւունքն է՝ անկախ նրանից, թէ որտեղ է նա բնակւում: Նոյնը վերաբերում է նաեւ Արցախում ապրող ժողովրդի առողջութեան իրաւունքի հարցին, որի իրացումը, դուք շատ լաւ հասկանում էք, չպէտք է պայմանաւորուած լինի Արցախի կարգավիճակով:
Ուստի, ես ակնկալում եմ Եւրոպայի խորհրդի աջակցութիւնը այս լրջագոյն հարցերի լուծման գործում: Եւրոպայի ցանկացած տարածքում ապրող քաղաքացին ունի կեանքի, առողջութեան եւ կրթութեան նոյն իրաւունքները, եւ այդ իրաւունքները երկրի քաղաքական կարգավիճակով պայմանաւորելը անթոյլատրելի եւ աններելի է», ըսաւ Նայիրա Զոհրաբեան։
Armenian boxer Gurgen Hovhannisyan (+91 kg) beat his Turkish opponent Ilyas Muchahit during the European boxing championship games being held in Minsk, Belarus.
Hovhannisyan celebrated a 3 to 2 victory over his opponent and reached the quarterfinals, the National Olympic Committee reported.
The Armenian athlete had started performing from the semi-finals where he had defeated Bosnia-Herzegovina's Veletik Dusan 3-2.
Շաբաթ, 22 Յունիս 2019-ին, երեկոյեան ժամը 6:30-էն սկսեալ, Լաւալի Սուրբ Գէորգ եկեղեցւոյ տօնավաճառ-քերմէս այցելեցին դաշնակցային, նահանգային եւ քաղաքապետական մակարդակի զանազան պաշտօնատարներ: Պաշտօնական այս հիւրերու շարքին էին Լաւալի քաղաքապետ Մարք Տեմերս, դաշնակցային երեսփոխաններ Ֆայսալ Էլ-Խուրի (Laval-les-Iles), Եւա Նասիֆ (Vimy) եւ Իվ Ռոպիյար (Marc-Aurèle-Fortin), նահանգային երեսփոխան Կի Ուելէթ (Chomedey), նահանգային երեսփոխան Մոնիք Սովէի ներկայացուցիչ Ռարէս Պուրլաքու (Fabre), Լաւալի քաղաքապետական խորհուրդի անդամներ Արամ Էլակէօզ (Renaud), Ալին Տիպ (St-Martin), Ժոսլին Ֆրէտէրիք Կոթիէ (Auteuil), Սանտրա Էլ-Հըլու (Souvenir-Labelle), Նիգոլաս Պորն (Laval-les Iles), Վիրժինի Տիւֆուր (Sainte-Rose) եւ Ուրուկուէյի ընդհանուր հիւպատոս հայազգի Փետրօ Էտուարտօ Քէօրօղլեան:
Հիւրերը դիմաւորեցին Լաւալի Սուրբ Գէորգ եկեղեցւոյ հոգեւոր հովիւ Արժ. Տէր Յակոբ Քհն. Կեատայեան, Հոգաբարձութեան ատենապետ Հերմինէ Մանուկեան, ՀՅԴ Գանատայի Կեդրոնական կոմիտէի ներկայացուցիչ Վաչէ Շամլեան եւ անդամ Մհեր Գարագաշեան, Լաւալի Հայ Դատի յանձնախումբի ատենապետ Յովիկ Թիւֆէնքճեան եւ Լաւալի «Սարգիս Զէյթլեան» կոմիտէի անդամներ Ներսեհ Լիպարեան, Մովսէս Կէտիկեան եւ Զաւէն Տէր Սահակեան:
Բարի գալուստի խօսքով հանդէս եկաւ Յովիկ Թիւֆէնքճեան, որ ողջունեց ներկաները եւ բարձր գնահատեց ներկայ պաշտօնատարներուն քաջալերանքը հայկական նախաձեռնութիւններուն, որմէ ետք քաղաքապետ Տեմերս խօսք առնելով շեշտեց լաւալահայութեան ներդրումը Լաւալի բարգաւաճումին եւ յառաջդիմութեան գործընթացին մէջ:
Ընթացքին հիւրերը այցելեցին տաղաւարները, եւ տեղի ունեցաւ հիւրասիրութիւն:
Յովիկ Կէտիկիան